Home insulation and weatherization work to tighten your home's thermal envelope. The thermal envelope includes the roof, walls, windows and doors, insulation, caulking, and weather-stripping. These practices improve areas that separate the inside from the outside. Improper protection in these areas directly affects your house's heating and cooling loads and in turn, your energy costs. Using these practices will help to lower your utility bill as well as improve your home's comfort and overall value.
Insulation
 
A little insulation goes a long way.
You can earn a rebate by improving the efficiency of your home by installing insulation and other thermal envelope measures — including ceiling, wall, and foundation insulation, caulking, window film, etc.
Insulating your home properly will greatly lower your heating and cooling costs. Experts estimate that 40 million single-family homes in the United States need more insulation. Could yours be one of them?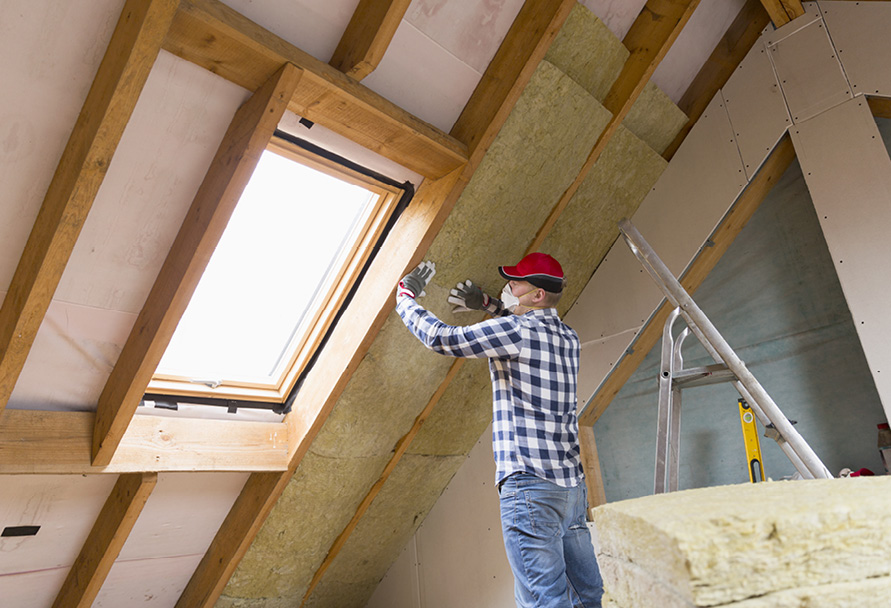 Weather-stripping
 
Did you know as much as 7-12 percent of a building's heating and cooling loss occurs around windows and doors? So, jettison those leaks, and weather-strip to seal around movable joints like as doors or windows. Most weather-stripping is a do-it-yourself job. When you shop for weather-stripping, consider how durable the material needs to be: Is this a heavily used door or a window that's almost always closed? Many varieties of weather-stripping are available.
The first step in weather-stripping your home is to perform a home energy evaluation or audit. This evaluation or audit will tell you the areas that are losing you the most energy. From there, you can determine which of the following practices are necessary to properly weatherize your home.
Types of weather-stripping
Threshold weather-stripping. Measure your door, buy the approximate height and width of material you need and trim to final size. Nail into place.
Door-bottom weather-stripping. Aluminum and vinyl stripping for the bottom of your door is inexpensive, fairly easy to install and will last for several years.
Tubular vinyl gasket stripping. Used for windows and doors, it's durable and flexible enough to seal uneven gaps and joints.
Thin spring metal stripping. Excellent and durable for windows and doors, this is probably the most expensive. It's practically invisible when properly applied but is best installed by a professional.
Foam-backed tape. Easy to install and inexpensive, it also wears out easily. Good for windows and doors that aren't frequently used.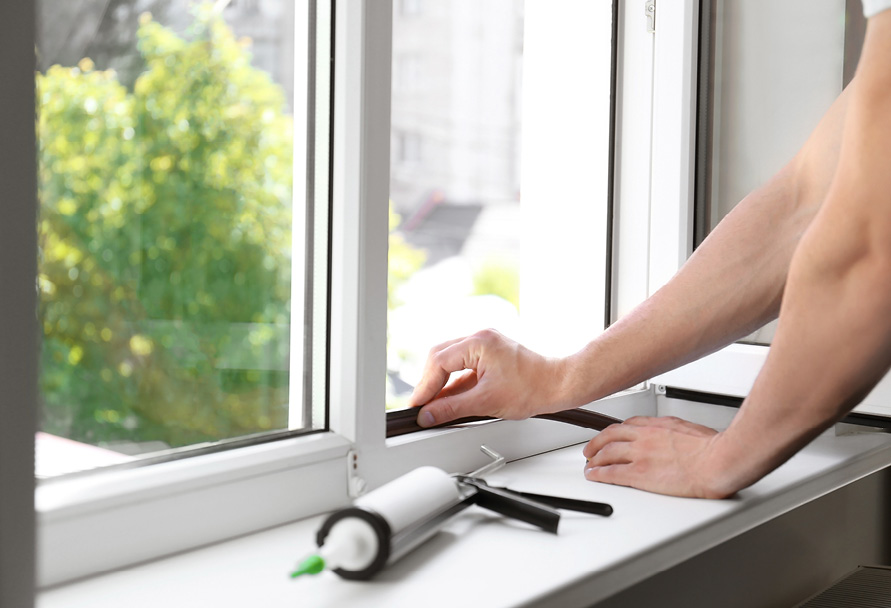 Caulking
Caulking seals cracks and joints to keep drafts and moisture out of your home or business. Apply it wherever two unmoving parts of the building come together, including:
Around window sills and door frames
Where wood siding meets a concrete foundation
Around chimneys
Water faucets
Intake and exhaust vents, etc.
Types of caulking
Oil-based caulks are the cheapest but least durable and should be used only in narrow cracks.
Butyl-based caulks are medium-priced and fairly durable.
Acrylic latex caulks are medium-priced, fairly durable and easy to work with.
Silicone-based caulks are the most expensive and the most durable.
Oakum, caulking cotton, sponge rubber or fiberglass are good for filling large cracks or holes. Then apply regular caulking in the smaller cracks.
Amount of caulk
As a guideline, you'll need about half of a caulking cartridge for each window sill, two cartridges for a two-story chimney, and about four cartridges for a foundation sill. If it's your first time caulking, buy a little more than you'll need so you can practice before starting the project. Cut the nozzle to make a bead just big enough to cover the gap.
Preparing and storing
Before starting a caulking project, remove any old caulk, clean the surface and allow the area to dry. Don't caulk if the temperature is below 40 degrees. When you're finished, store the remaining caulk by putting a large nail in the nozzle hole, then wrapping the nozzle with aluminum foil.
Other weatherization tips
Garage door weather-stripping
Thick, durable weather-stripping here will help seal off a common area of energy leakage. Fiberglass duct wrap is the best material for this job.
Plug up the holes around outlets
Hardware stores sell Styrofoam plugs to seal off energy loss around outlet plugs and light switches inside your home or business.
Landscaping
Leafy trees for shade or sun. Leafy or deciduous trees seem almost made for energy savings. Plant them on the south and west sides of your home or business. In summer, they provide shade from the hot sun. In winter, they shed their leaves to let the warming sunshine through. Evergreens can be a good winter windbreak. Plant them along the north side and wherever prevailing winds tend to chill your home.
Insulate with shrubbery. Consider encircling your home or business with an evergreen hedge, planted about a foot away from the foundation. It will create a "dead air" space that helps insulate your home during the winter.