Black Hills Energy brought all things EV to Southern Colorado with EV Expo and Guest Drive Event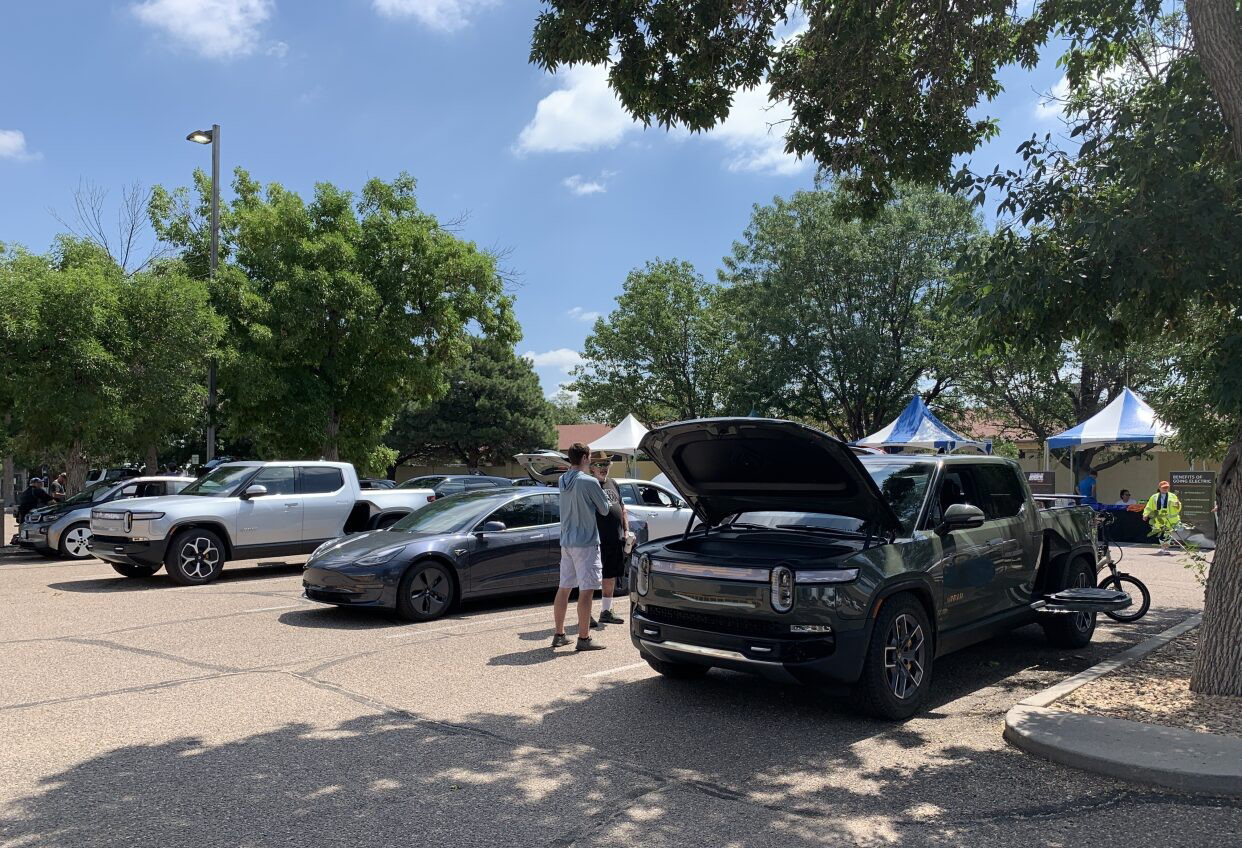 PUEBLO, Colo., Aug. 8, 2023 – Breaking down barriers to make electric vehicles more accessible to all, Black Hills Energy hosted its Ready EV Expo and Guest Drive event on Saturday, Aug. 5 at Pueblo Community College, providing Southern Colorado residents the opportunity to learn more about EV ownership and even take one for a spin themselves. Pueblo Community College was also awarded the company's 100th charger rebate during the event, as part of the Black Hills Energy Ready EV program.
The expo portion of the event featured an array of EVs – including a Ford F-150 Lightning, which was tapped as the power source for the entire expo; Ford Mustang Mach-E; Chevrolet Bolt; and Nissan Leaf – thanks to local partners and Drive Clean Colorado, a non-profit coalition delivering programs to support clean transportation and efficient mobility choices in Colorado. An electric school bus, hybrid Black Hills Energy bucket truck and e-bikes also were on display. The event drew EV experts and enthusiasts from across Colorado to share valuable information on EV ownership and charging with guests.
Alongside the expo, Black Hills Energy also offered a unique Guest Drive event, where 118 registered attendees had the opportunity to get behind the wheel to experience driving an EV firsthand. Many of the guests took the opportunity to drive up to three different types of EVs.
"We were pleased to bring EVs to the Southern Colorado community and share the resources that we offer via our Ready EV program, including charger rebates," said Erik Lundeen, Black Hills Energy's EV program manager. "Through the program, Black Hills Energy is accelerating the adoption of EVs, removing roadblocks to EV ownership and helping customers learn about their many benefits."
During the event, Black Hills Energy presented Pueblo Community College with Black Hills Energy's 100th charger rebate, as part of the Ready EV program. Pueblo Mayor Nick Gradisar, Black Hills Energy's Erik Lundeen and Pueblo Community College President Dr. Patricia Erjavec expressed their gratitude for the partnership and excitement for the growing adoption of EVs in Southern Colorado. The rebate will be used for the purchase and installation of the college's new Level 2 EV chargers.
"The City of Pueblo is committed to electrification of our fleet within our departments, beginning with the Pueblo Police Department. As of November, of this year, the Police fleet will be 21% electric while we have just added two hybrid electric buses to Pueblo Transit," said Mayor of Pueblo Nick Gradisar. "As Mayor, I'm committed to this work and excited to know that we have community partners like Black Hills Energy and Pueblo Community College, who are also committed to bringing EV chargers, education and support to our community."
Pueblo Community College also offers an EV Automotive Program, which helps establish career pathways for those interested in the transition of automotive technology and offers students the opportunity to work toward an EV certification.
"I applaud Black Hills Energy for their partnership, encouraging the widespread adoption of EVs and serving as a resource to our students enrolled in our new EV Automotive program," said James Cordova, Chair of Pueblo Community College's Automotive Technology Department. "Together, we're reaching our shared goal of making EV ownership and careers more accessible."
Black Hills Energy Ready EV is a cash rebate program that significantly covers costs for electric customers' EV charging equipment and installation. Ready EV also offers upfront EV purchase rebates for income-qualified customers and a time-of-day rate option for customers' electric bills, to support charging and possible bill savings.
For more information about Black Hills Energy's Ready EV program, visit: https://www.blackhillsenergy.com/efficiency-and-savings/welcome-ready-ev/welcome-colorado-ready-ev.