Black Hills Energy employee recognized for commitment to giving back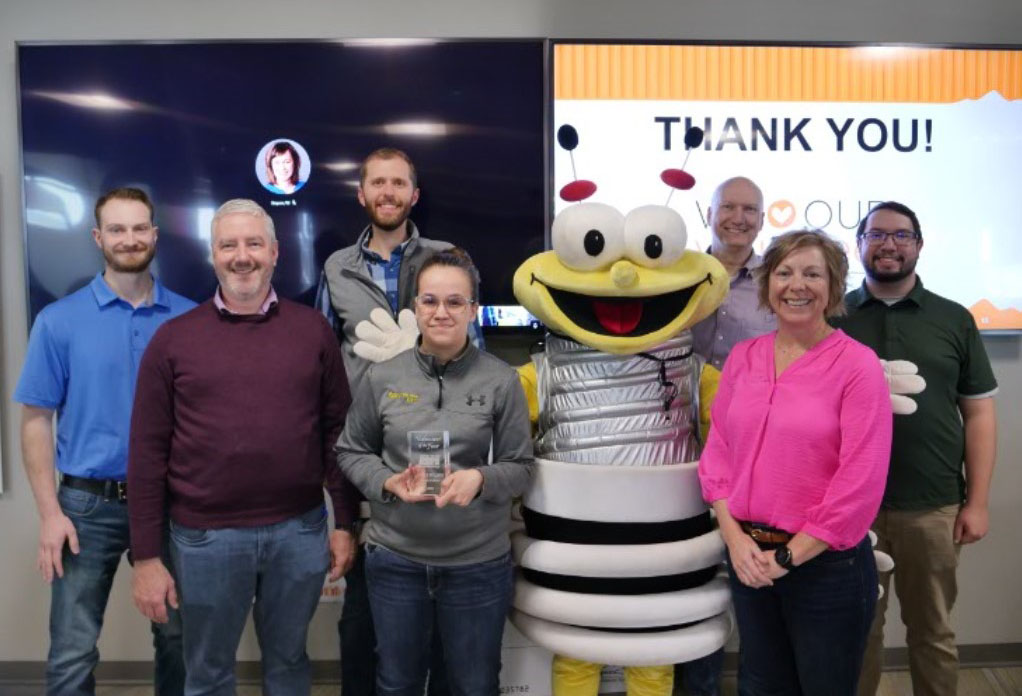 [Rapid City, SD] — May 5, 2023 — A community is woven together by the strengths and gifts that its residents share with each other to make their hometowns a great place. Much of that great work is done by unsung heroes who volunteer countless hours to help those in need or roll up their sleeves to do the hard work that needs done to make our communities welcoming.

For Black Hills Energy, it's hard to find a value with more important attributes than what volunteerism exhibits. To honor this value, each year the company names a Volunteer of the Year in each state in the Black Hills Energy territory.

In South Dakota we were thrilled to recognize Grace Wilson, a distribution strategy engineer.

Grace gives her time and talents to the First Robotics Competition Team Rapid Acceleration. The First Robotics Competition is a program in which high school students design, build, and program an industrial sized robot to compete in sports like games. Team Rapid Acceleration is the only program of its kind in South Dakota. Grace has been a mentor with the team since 2016 and spends more than 20 hours a week during the robotics season teaching and inspiring youth in the program.

Grace is a native of Colorado and began working with Black Hills Energy after graduating from South Dakota Mines.

"We are thrilled to recognize Grace for her selfless commitment to mentoring youth in the engineering field. Grace spends countless hours and most of her paid time off to support the robotics team as they design and build a robot and then travel around the country competing." Marc Eyre, Vice President of Electric Operation in South Dakota went on to say, "Grace is very deserving of the Volunteer of the Year recognition and exemplifies the importance Black Hills Energy puts on volunteerism in our communities."

When asked why she mentors the robotics team, Grace said "I love seeing the growth in students year to year and watching how this program shapes them into outstanding young adults." Grace highlighted the impact of volunteering with the team, "These students are given the chance to apply engineering skills and problem solving prior to college. Which sets them apart from their peers."

As a part of the award, Grace Wilson will be able to designate a $500 gift to the charitable organization of her choice. Not surprisingly, Grace has asked that the gift be given to the Rapid Acceleration Robotics Team.

On behalf of Black Hills Energy, we thank Grace and the many South Dakota employees who contributed over 10,000 volunteer hours to more than 200 local community organizations in 2022.
Black Hills Energy News
FAYETTEVILLE, Ark. — Dec. 4, 2023 — Black Hills Energy filed a rate review application with the Arkansas Public Service Commission requesting a base rate increase to recover the necessary capital infrastructure and operational costs required to deliver safe, reliable natural gas service for over…

CHEYENNE, WY — Nov.  15, 2023 — Temperatures outside are rapidly dropping, time to be mindful of the energy we use and how it impacts our lives.  On a quarterly basis, Black Hills Energy's natural gas utility (Black Hills Wyoming Gas) updates its Gas Cost Rate to reflect the cost of gas purchased…

Black Hills Energy sends dozens of crews to help restore natural gas service to 36,000 Avista customers following call for mutual aid DENVER, Nov. 10, 2023 — Black Hills Energy is sending dozens of trained technicians from Wyoming and Colorado following a call for mutual assistance to a natural…

Black Hills Energy sends dozens of crews to help restore natural gas service to 36,000 Avista customers following call for mutual aid DENVER, Nov. 10, 2023 — Black Hills Energy is sending dozens of trained technicians from Wyoming and Colorado following a call for mutual assistance to a natural…