Central Nebraska Black Hills Energy employee recognized for commitment to giving back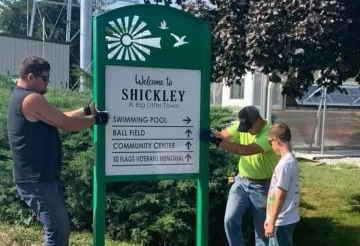 SHICKLEY, NEBRASKA – August 14, 2023 – For Black Hills Energy, volunteerism is a core value and pillar of the company. To honor this value, the company names a Volunteer of the Year in Nebraska every year.
Nebraska Volunteer of the Year Brock Domeier, a gas service technician in the Sutton area, represents volunteerism through his dedication to supporting his small-town community of Shickley, Nebraska.
Domeier's devotion to his community, as well as his country, deserve praise and recognition. Not only has he dedicated countless hours serving on the Shickley Village Board and led efforts to create the nonprofit Big Little Town Revitalization Club, he has also served in the military for 25 years. The Big Little Town Revitalization Club is a group working to make Shickley better by organizing community events, such as the annual Longhorn Days celebration, and helping to revitalize parks and public spaces in this south central community of 350 residents.
"The volunteer of the year award recognizes employees who exemplify our mission, vision, and values," said Quintin Gaddis, Black Hills Energy General Manager of Nebraska operations. "This past year, Brock Domeier has demonstrated that he is generous with his time and focused on making life better for our customers and their communities."
A Black Hills Energy employee since 2015, Domeier is a champion for his local community and for helping others. He says that "bringing people together to make things better than they were before" is what he likes most about being a volunteer, and that he "likes seeing the positive impact in the end and seeing all of your hard work pay off."
"The Big Little Town Revitalization Club came to fruition because of Brock's vision of forming a group of volunteers who were willing to give of their time their talents to bring improvements and community activities to our town," said Cassie Schlegel, member of The Big Little Town Revitalization Club, the Shickley Board of Education, and Passing the Bread Ministry, as well as co-owner of 5 Loaves Market and Bakery in Shickley (along with husband Chris).
"Like everyone in the Club, Brock is also a transplant to the town of Shickley. He heard about a similar organization in another small town and knew that this was something Shickley could do as well. Since forming as a non-profit in 2018, Brock has led the group in several improvements within the community. Notable projects include new directional signs within the community, park landscaping, Main Street flower pots, and creating the annual two-day celebration called Longhorn Days. Our biggest and latest project is bringing to town an all-inclusive playground to our Westside park. Brock has given countless hours of his time, talent and resources to help make wonderful improvements in our community. He is a dedicated individual, not only to our country through his many years of service in the National Guard, but also right here in our community through serving on the Village Board, being part of the Local American Legion, coaching, and being president of The Big Little Town Revitalization Club. Brock is always looking for ways to help make improvements for the betterment of our community at large all the while giving of his time and expecting nothing in return," Schlegel commented.
As a part of the Volunteer of the Year recognition, Brock was given $500 to donate to the organization of his choice, which he will be using to support new projects for The Big Little Town Revitalization Club. The monetary support will help with additional parks projects and is also being matched by a local donor for a total of $1,000 to put toward this project.
"Brock's relentless commitment to his community and country, as well as his dedication to The Big Little Town Revitalization Club, exemplify our mission, vision and values," said Brett Lahndorf, gas operations supervisor in Sutton. "This past year, Brock Domeier has demonstrated that he is generous with his time and focused on making life better for our customers and their communities – he is an inspiration for all of us."