Everyone loves a carousel - Iowa Energy Connections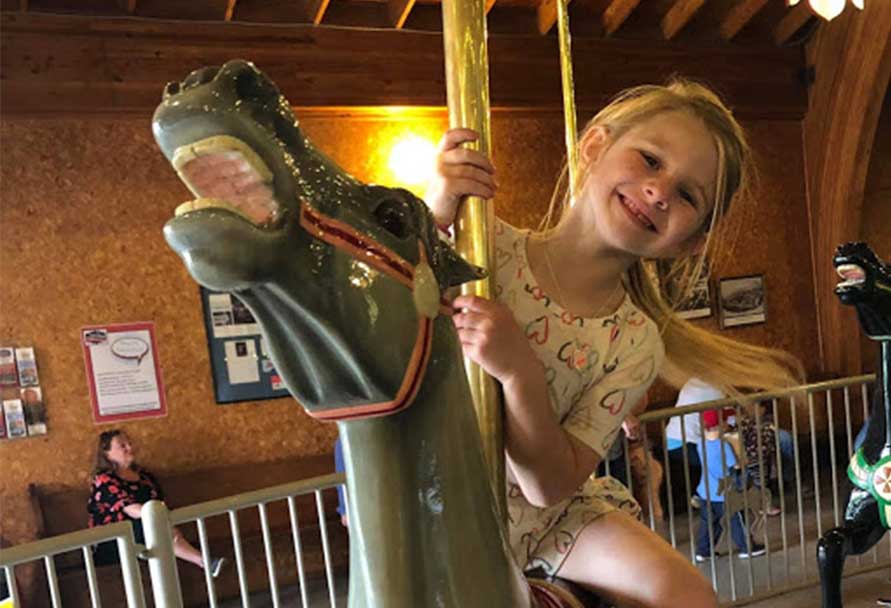 The soundtrack of Karen Hermanson's childhood was the Story City Carousel's calliope tunes blasting from the Wurlitzer Military Band organ.
In the 1960s, Karen's dad owned the local grocery store and the carousel was located in a gravel lot next door.
"Every Friday night families would come to town to ride the carousel, go the Story City theater and do their shopping," said Karen.
The carousel was built in 1913 and has been in Story City, Iowa since 1938. Prior to that, it was a traveling carousel transported across the region for special events. "GCC (today known as the Story City Greater Chamber Connection) bought it for a Fourth of July celebration. It was scheduled to go to Eldora, so to get it that year they had to buy it instead of lease it, and that's how they got a carousel," said Karen.
It was moved from the downtown gravel lot to its current location in Story City Park in 1982. At that time the City built the pavilion to protect the carousel from the elements, but due to a farm depression at the time, the community had a limited budget for construction.
Nearly forty years later, the structure was in dire need of repair and renovation.
"This carousel is a treasured antique and loved by the community, but the building was deteriorating," said Karen. As the Story City Greater Chamber Connection Board Member Carousel representative, the organization set out to see what could be done. And the whole community came together to help.
The ball got rolling with a commitment from the City of Story City to help fund the improvements. Donations came in from the county, citizens, community organizations and local businesses. Grants were secured. The local community theater group did a production of A Midsummer's Night Dream at the pavilion and donated the proceeds. The American Legion held a spaghetti supper fundraiser and Scandinavian Days hosted a pancake breakfast to help.
"When the Black Hills Energy donation came in, we met our goal," said Karen.
The renovations focused on using maintenance-free, durable materials. Improvements included new siding, bringing the electrical system up to code, energy efficient LED lights, new soffits, a new additional entrance and new doors that will provide visitors with a better view of Story City's picturesque North Park.
"What this carousel provides to our community is truly something special. People of all generations come together here – history buffs, kids and families. It's a community meeting point. Every season we have visitors from all 50 states and a dozen foreign countries, with 19,000 rides per year. We are so fortunate to have such a photogenic, intergenerational, fun treasure as part of our community's story," said Karen.
The last updates will be completed in time for the 2020 season when the new doors are installed and the new siding is painting.
The Story City Carousel is open each year from Memorial Day through Labor Day and weekends through September.  For more information contact the Story City Greater Chamber Connection 515 -733-4214 www.storycitygcc.org