Coach. Volunteer. Civil servant. Mom.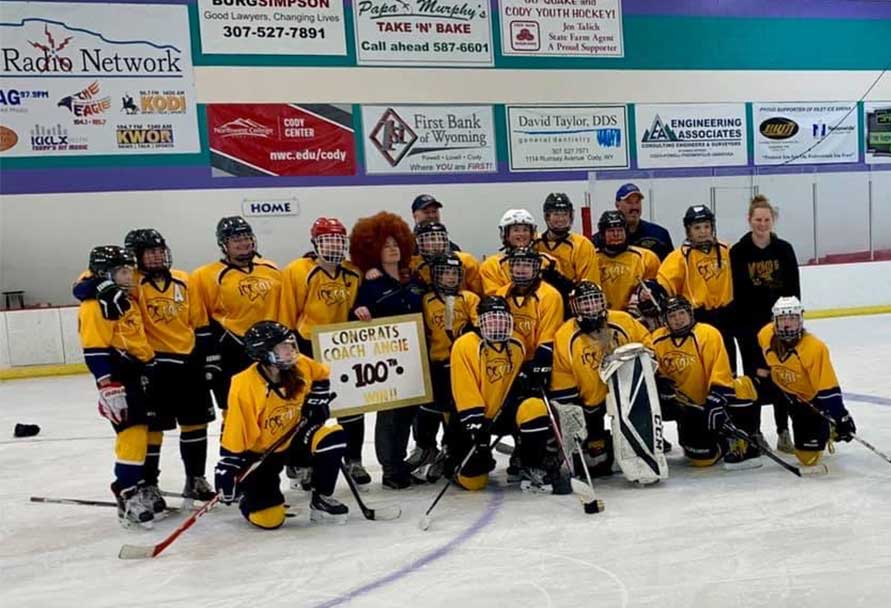 Angie Johnson plays many roles in her small Wyoming community. But no matter the hat (or wig) she's wearing at the moment, there's one thing you can be sure of: wherever Angie is, she's helping people.
"I knew my calling was to help people," said Angie. "We all have great strengths. To utilize those strengths to help others has been my goal for 20 years," she said.
Angie recently marked her 21st year of serving as the Town of Meeteetse Clerk Treasurer. Throughout those more than two decades, one of her priorities has been to make sure the town is prepared for the future by securing grants for the community's infrastructure. "Our water system and sewer system are at least 85 percent upgraded. It's my goal that that when I step out of here, they don't have to worry about those systems for at least 20 years," she said.
In addition to her day job, Angie helps her community by serving as book keeper for the fire district and serves on the cemetery board, joint powers board, Youth Works program board, school board, Cody Medical Foundation board and the Wyoming Association of Municipal Clerks and Treasurers board where she leads the education committee and was named the clerk treasurer of the year for the State of Wyoming.
And then there's the coaching. Mother of three, Angie learned hockey when her kids started playing the sport. When her oldest son was four, she volunteered to help the team. Fast forward 17 years, and she's the head coach of the Park County Youth Hockey team in Cody and celebrating 100 wins as one of the best teams in the state.
"The success of our hockey team is all about caring for our athletes. They know that I care," said Angie. "Every year right before our state championship game, I write to every one of my athletes an individual inspirational note to let them know that I've taken the time to think about their individual skills, their contributions to the team, and how they overcame an obstacle, whatever it might be," she said.
As a coach, Angie teaches her athletes the kind of tenacity that will help them thrive on and off the rink. "Sometimes you struggle, and I think it's ok to struggle. If they see you struggle too, then they know it's ok. Life isn't always perfect and you don't have to pretend that it's so wonderful all the time, but if you can keep an optimistic outlook, generally you're better off," she said.
"Take every moment that you have and every opportunity – never waste it. If someone said 'let's go sky diving' right now, I'd do it. You only live once."