Heroes and a helicopter restore power to thousands in Wyoming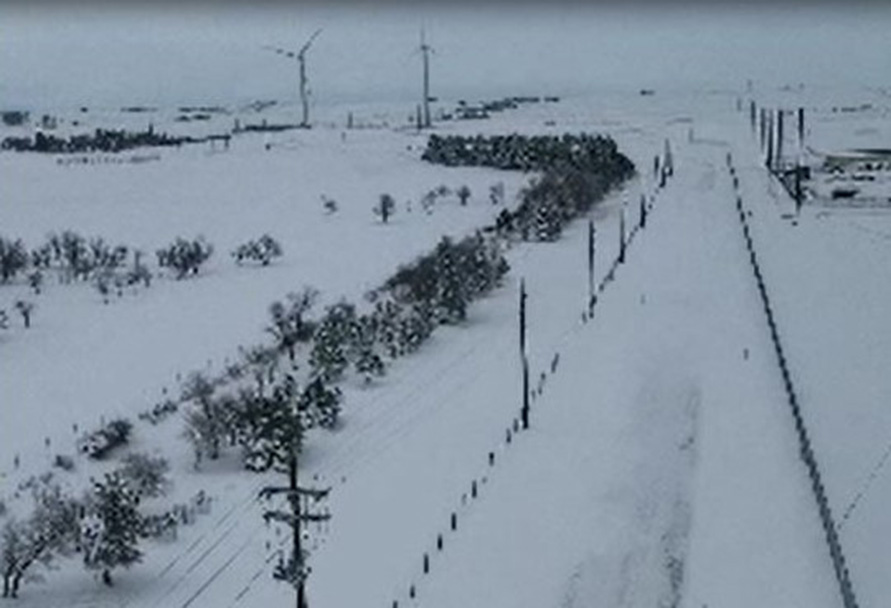 On Saturday, March 13, snow began to fall on Cheyenne, Wyo.
Within the next 24 hours, Winter Storm Xylia would drop a record-breaking 30.8 inches on the capitol city. Interstates, offices, businesses and schools were closed for the next five days, and law enforcement warned citizens to shelter in place. In times like these, when everything else grinds to a halt, the Black Hills Energy team works harder than ever because our services become even more important to our customers.
During the blizzard, temperatures dropped, ice formed on electric lines and heavy, wet snow combined with 50 mph winds to create a dangerous situation. The extreme conditions resulted in power outages, the largest affecting 3,500 customers living west of Cheyenne. Black Hills Energy's electric crews knew that patrolling the lines to assess damage on impassable roads would be impossible. In order to restore power quickly and safely, they would need to come up with a creative solution. That solution came in the form of a search and rescue helicopter that had arrived in Cheyenne for a mission during the storm. Electric Operations Manager Eric Underhill inquired about the helicopter's availability and worked with his team to come up with a plan to take the line patrol vertical. 
Electric foreman/lineman Billy Dausman was selected for the mission and soon began aerial patrol. "The information that was being relayed back from the chopper in real time gave us damage assessments and locations," said Underhill. "We could then place our focus on ground efforts with known target locations." The damage assessments also showed the team what equipment and material would be needed, helping to save additional time in restoration efforts. Without the helicopter, the effort would have taken days. Instead, the aerial patrol allowed the crew to safely patrol 30 miles of line in one hour and then restore power quickly to thousands of customers.    
"It was amazing how rapidly the contracts team chased down the details needed to assess this from a risk and legal standpoint," said Underhill. "I am also very grateful for our business partners and all of the other Black Hills Energy employees who supported our operations teams during the storm."   
Winter Storm Xylia broke the one-day snowfall record in Cheyenne, Wyo., and fell just short of beating the two-day record set by the famous Blizzard of 1949.   
"I'm so proud of this effort and appreciate the tremendous support from across the enterprise to help us keep our customers informed and keep the gas and electricity on during this epic storm," said Mark Stege, vice president of operations for Wyoming. "This was a great demonstration of our company's values in action - agility, safety, customer service, communication, leadership, integrity, respect, creating value and partnership." 
We partner with our communities and customers, providing the kind of energy that fuels those areas and the lives of those we serve. Feel free to share the stories and photos. Make sure to tag us on Facebook, Instagram, LinkedIn and Twitter.