Electric vehicle charging rebate for your home
At Black Hills Energy, we're thrilled to announce the launch of our Ready EV program! As part of Ready EV, we're now offering electric vehicle charging rebates for your home or business.
A majority of electric vehicle drivers prefer the convenience of charging their car at home. This $500 electric vehicle charging rebate will help reduce your home charger and installation costs. 
Qualifications
Rebates are available to residential customers located in our Black Hills Energy electric service territory and who agree to the terms and conditions outlined on the Electric Vehicle Charging Rebate Application form for your state. See what rebates we offer.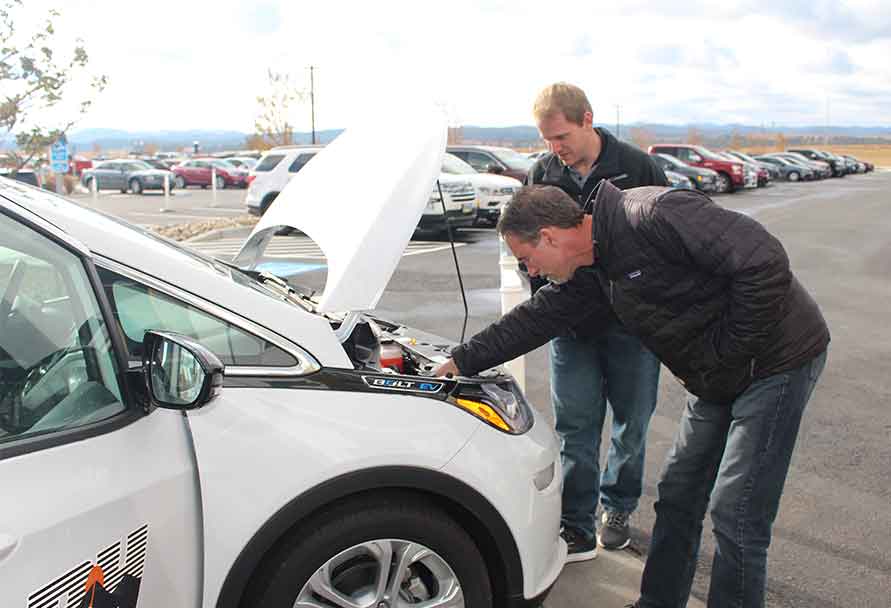 5 steps to a successful installation
Decide who will use your chargers - employees, customers and/or public - and consider where you might like them installed.
See your smart charger options, and contact us to set up a call to assess your charging needs.
Meet Black Hills Energy for a site walk to determine your installation location and contact a qualified electrician for installation.
Mail or email the following to Black Hills Energy c/o Electric Vehicle Charging Rebate at P.O. Box 1400, Rapid City, SD 57709 

Signed copy of the Charger Rebate Terms and Conditions
Qualified charger purchase receipt
Qualified electrician installation receipt

Rebate is mailed within 60 days of Black Hills Energy receiving your paperwork. 
Charging speeds             
There are three levels of charging speeds:
Level 1 chargers come with every EV and plug into a standard 120-volt wall outlet. They provide 4 miles of range per hour, or 32 miles of range overnight. This pace can serve those who do not require faster refueling.
Level 2 chargers are common because they support charge rates of roughly 25 miles of range per hour. They require the installation of a 240-volt outlet by a qualified electrician and provide flexibility due to their faster charging speed.
DC fast chargers are most often located along well-traveled public thruways and can provide up to 80% of a vehicle's charging need in 30 minutes.
Finding public charging
It's easy to find a public charger, download the PlugShare app and it tells you where the nearest DC fast or Level 2 charging station is to your location.