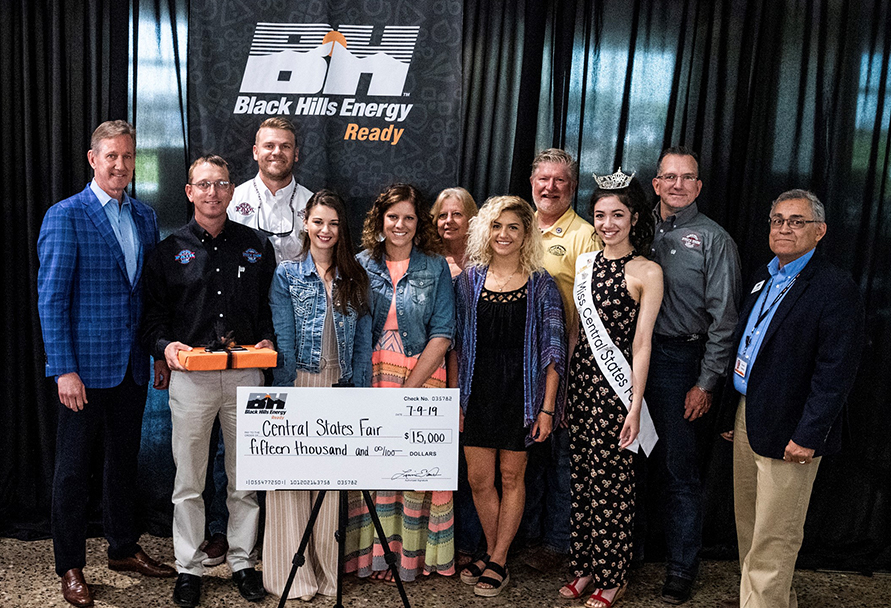 Our second quarterly Community Giveback event, held at our corporate headquarters, featured 16 different organizations service our Black Hills community in important and crucial ways. Both our local utility and the Black Hills Corporation Foundation have been making grants to worthwhile nonprofit organizations for throughout our rich history, but this is the second time we have hosted a collective recognition event in honor of you, our community partners. 
We presented over $170,000 in gifts to these worthwhile organizations. These gifts include sharing of some technology that has served us well and still has some good life left, as well as sharing some dollars specifically for scholarships at three great educational institutions from here in South Dakota.
Facebook Live
Watch the presentation from our Facebook live video and follow the Black Hills Energy Facebook page to see more of our community involvement. 
Hills Alive
Hills Alive is a family-friendly music festival held every summer in Rapid City, SD. The concerts are featured by some of today's best Christian artists. Over 20,000 daily visitors enjoy food, stage shows, and fun activities for everyone at its ideal central location in downtown Rapid City. We are pleased to partner with Hills Alive to keep this event free to the public. 
Girl Scouts Dakota Horizons
Girl Scouts Dakota Horizons builds the courage, confidence, and character of young girls who aspire to make the world a better place. We are proud to partner again with the Girls Scouts of Dakota Horizon to assists with several events over the next year, including The Joy Project, Amplify Your Adventure, Girl Scout Gold Awards, Resident Camps, The BIG Event, Women of Distinction, Cookie University, Black Hills Energy Patch, Girls on-Site Event. We also provide assistance to girls and their families experiencing hardship by covering membership fees so they can benefit from joining Girl Scouts. 
Central States Fair
For decades, the Central States Fair has drawn thousands of people from all over Rapid City and surrounding communities for concerts and derbies, rodeos and motorsport races. The Fair, is held every August, engaging its visitors with a carnival, stage entertainment, and miscellaneous exhibitions. In addition, the organization is also responsible for the famous Black Hills Stock Show and Rodeo.
As a proud partner, Black Hills Energy sponsors the Central States Fair Concert Series, and has gifted 20 smartphones for improved radio communication between staff and volunteers during their events.
Wavi
For more than 40 years, Working Against Violence, Inc., or WAVI, has been responsible for increased awareness of domestic violence and sexual assault in our community.  Since 1978, WAVI has committed countless hours for survivors and victims. And now operates the largest  domestic violence and sexual assault center  in western South Dakota.
Newell Public School District
The town of Newell rests within Butte County in western South Dakota. The Newell Public School District educates 300 children, some of which have to commute at least a half hour every day.
Black Hills Energy has provided Newell Public School District with 70 iPads, which will be used in the school's early education and special education departments. In addition to boosting student engagement and creativity, these iPads will also help with differentiated learning, and allow students to progress at their own pace and skill level.
Meals on Wheels
Meals on Wheels provides several communities across South Dakota with meals for homes and congregations, ranging from a plain hamburger to Hungarian goulash. They serve hundreds of meals a day, and even provide frozen meals for weekends. For many people, it is not just the food delivery itself, but the social interactions provided by delivering volunteers that leave a lasting impression long after their meal is finished. 
The 25 smartphones donated from Black Hills Energy will be utilized for a digital GPS delivery system, redefining how Meals on Wheels operates.
Lutheran Social Services
For nearly a century, Lutheran Social Services (LSS) has offered an extensive selection of services throughout the state, including mentoring, adoption, foster care, disaster response, and an independent living program, designed for kids on their way to being self-sufficient adults. Another program, run through the Center for New Americans, assists refugees navigate in a new nation, through employment services and English classes.
Black Hills Energy is donating 50 cell phones to LSS, which will be used by clients utilizing employment services who are without a phone.
Youth and Family Services
The Youth and Family Services is a landmark community agency that serves thousands of children and families each year.
Its famous Kid's Fair is held every spring, featuring a giant playground and assortment of activities for all ages, with past years including booths, inflatables, and even a giant sand box. With an attendance creeping over 10,000, safety is the primary concern during the event. Communication signals within the buildings can be challenging, so Black Hills Energy has provided YFS with 30 smartphones, which will be used for more improved communication between leaders, monitors, and volunteers at their capstone event.
South Dakota Scholarship Foundation
The Miss America organization empowers young women across the country to be the best they can be through leadership, talent, communication skills and smarts.
For over seven decades, the South Dakota Scholarship Foundation has been providing scholarships for Miss South Dakota candidates from across the state. The scholarships go directly to funding educational expenses for these high achievers. Former Miss South Dakotas have gone on to be attorneys, doctors, and even a South Dakota Secretary of State.
YMCA- Kids Campaign
After seven decades, the YMCA remains as a central center for our community to engage in recreational activities and programs. Over the years, the YMCA has made an effort to allow every individual – regardless of their age, income, or background – the opportunity to participate. Their annual Kid's Campaign helps achieve this goal.
Through youth sponsorships, children who are unable to meet the financial requirements still have the opportunity to enjoy the services offered by the YMCA.   Our volunteer team of Black Hills Energy employees raised over $38,000 this year to enable over 412 kids to have free memberships to the YMCA.
Historic Mcgillycuddy House 
Both our South Dakota Utility and our corporate Foundation were pleased to fund a collective gift of $15,000 to help the volunteers of Historic Rapid City to continue their restoration work of this historic home on the corner of Mt. Rushmore Road that was the 1876 home of former Rapid City Mayor and dean of the School of Mines, Dr. Valentine McGillycuddy.
Dr. McGillycuddy was also an early proponent and investor in early electrical generation in Rapid City, with an entity he was instrumental in creating being purchased by the company that would later become Black Hills Energy.
While the project has made great progress on the exterior of the home, their attention is now turning to the interior.  Once completed, the home will be a house museum for future generations to learn more about early life in Rapid City as well as a venue for smaller events.
Black Hills Farmers Market
For three decades the Black Hills Farmers Market has not only provided great support for small local farmers and producers, but in addition have created a vibrant marketplace for the entire community to share their love for fresh, healthy food. 
Black Hills Energy's gift to the Farmers Market covers the cost of installing a converter box and underground electric line in the park where the market is held.  As a result, market vendors have sufficient power and the atmosphere of the market is improved by eliminated the noise and fumes from generator use.  It also expands the market's opportunities like food refrigeration and even live music. From several local farmers at the central States Fairgrounds in 1998 to currently providing economic opportunities to more than 45 vendors, BHFM hopes  to continue to grow as a vibrant market for this community.
Club for Boys
The Club for Boys was originally created in response to community concerns about juvenile delinquency, where a safe, fun, and positive environment would allow kids to strengthen their senses of self-esteem and character. Today the Club for Boys has a well-qualified staff of 30 that provide recreation and developmentally appropriate programming for ages 6-17.
The Club of Rapid City is particularly unique, as there is nowhere else in the city where boys – especially those from low-income families – can go for recreation, and the degree of care and guidance that the Club offers.
Black Hills Energy provided a $5000 gift for their expansion project at the Club.
South Dakota State University
The Jerome J. Lohr College of Engineering at South Dakota State University in Brookings, South Dakota educates their engineering students through a practical, direct approach.  One way they do this is through the Center for Power System Studies (CPSS). In partnership with the regional power industry, the Center offers engineering students in-depth, hands-on experiences such as tours and industry workshops.  The Center is not just for Electrical engineers, but also is an excellent resource for mechanical and civil engineers interested in the power generation, transmission and distribution fields.
We are pleased to provide seed funds totaling $25,000 to endow an annual Black Hills Energy scholarship for an electrical engineering student attending SDSU and participating in the Center for Power Systems Studies.
South Dakota School of Mines & Technology
Black Hills Energy has been a longtime partner with the SDSM&T in Rapid City, SD. Since 1885, they have evolved into one of the leading science and engineering universities in the region.  They have educated a lot of engineers that we employ here at Black Hills Energy, and we hope that long relationship will continue.
With that, we are pleased to provide nearly $38,000 to fund a scholarship endowment which will allow two $1,000 scholarships to be given each year in the name of Black Hills Energy.
We are also providing $2,000 to sponsor their regional business planning competition for young entrepreneurs, called the Dolphin Tank which will be held in the fall.  Students present their business plans to local business leaders and entrepreneurs and winners receive cash awards meant to assist in transforming their concepts into companies.
 Mitchell Technical Institute
Mitchell Technical Institute (MTI) in Mitchell, South Dakota, trains future linemen and tradesmen that are critical to our industry. Members of the Black Hills Energy team share their expertise with MTI by serving on their Foundation and Powerline Advisory Boards.  We are pleased to partner with them by providing $25,000 to set up an endowment fund to provide scholarships in the name of Black Hills Energy each year as well.