Iowa energy connections // October
League of Cities aims to help cities shine
"Alone we can do so little. Together we can do so much." – Helen Keller
Those words are especially true for city leaders. That's why nearly 500 mayors, city clerks, city managers, members of city councils and other community experts gathered in Dubuque, Iowa this September for the annual League of Cities conference – the state's largest event geared specifically toward the needs of elected and appointed municipal officials.
"Whenever we ask a member what was their most valuable take away when attending the conference, the majority reply that it was the opportunity to learn together and from each other, said Alan Kemp, executive director of the Iowa League of Cities. "They may need the training, but they thrive on the networking; with other city officials, with workshop presenters, with League staff. It is this networking that makes the training they received more valuable and memorable when they get home," said Kemp. 
The League of Cities includes 870 cities in Iowa. In addition to the annual conference, the organization provides guidance through membership services, research, publications, and training opportunities throughout the year.
 "I always look forward to attending this conference. We get to visit with the people working every day to keep Iowa's communities strong, and discover new ways we can partner to strengthen those efforts," said Lynn Porter, Black Hills Energy community affairs manager.
The League began in 1898 with a group of city officials who saw the value of exchanging ideas on how to strengthen and improve local government in Iowa.
And 121 years later, the ideal of working together is still vital to community success.
For more information about the League of Cities, visit iowaleague.org.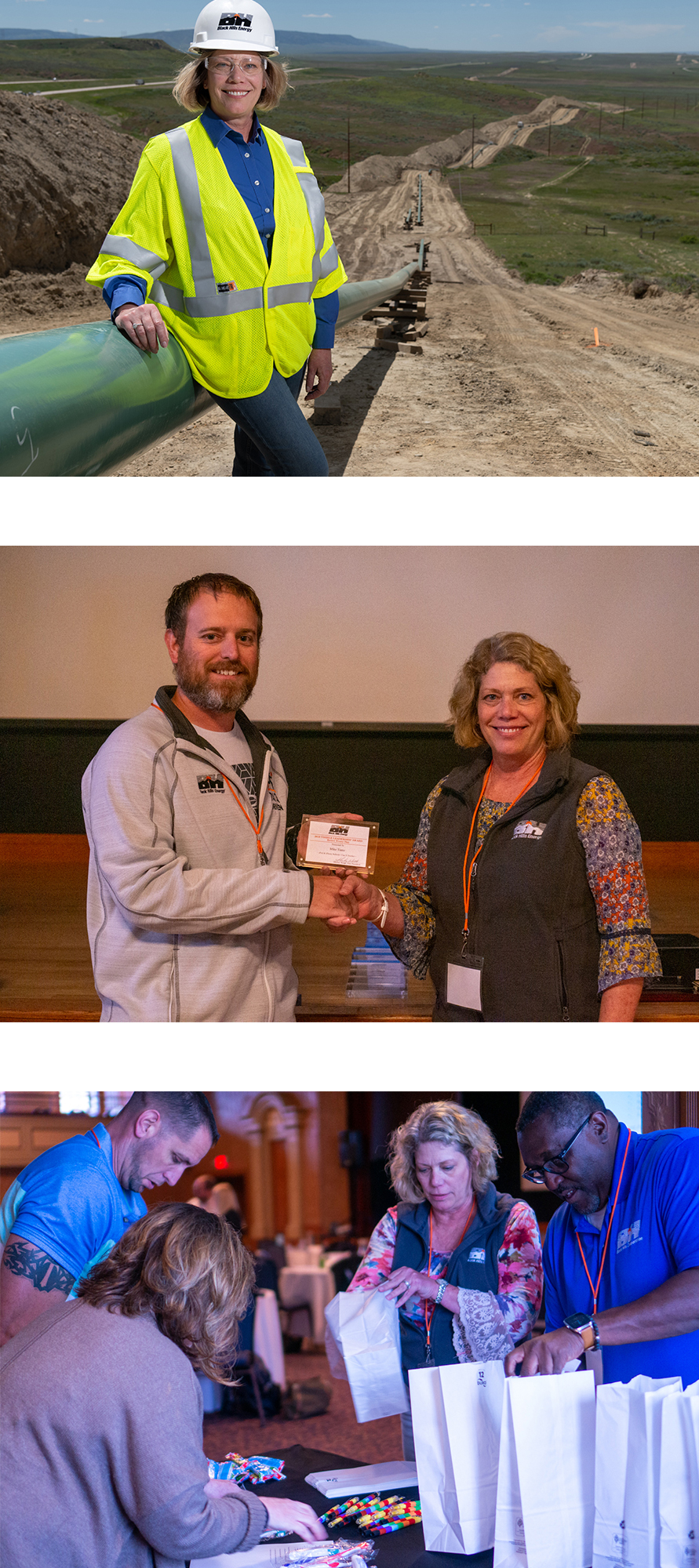 Homecoming for Black Hills Energy leader
Schools across Iowa will celebrate homecoming this autumn, punctuated with fond memories of timeless traditions and a celebration of team spirit. It's only fitting that Shirley Welte would make her arrival back to the area during this season.
Shirley Welte returned to Iowa in September to serve as Black Hills Energy's Vice President of Operations. And it felt like coming home.
"What has struck me is the familiar smells. The corn. The plants. The humidity. The sounds of the leaves and gentle breeze. I even took a big sigh hearing the sounds of locusts and bugs. I feel like I've come home. It feels good to be surrounded by these familiar Iowa smells, sounds, and most of all, the kindness of the people here," said Welte.
Shirley most recently lived in Wyoming where she served as Vice President of Operations for Black Hills Energy's electric and natural gas utilities. She joined Black Hills Energy in 2012 as an operations supervisor based in Manchester, Iowa and has held other leadership roles prior to her new vice president role.
"I had a wonderful learning experience in Wyoming and will miss the team there, but I'm excited to be back in Iowa," said Shirley. "I'm really impressed with the level of skill, professionalism as well as the kindness, caring and safety-minded focus of the team. I remember from my time here previously that people want to do the right things for the right reasons."
Shirley will continue to move key priorities forward for Black Hills Energy, including safety, customer service, and economic development. "Throughout the state when I speak with employees, safety is number one. We also regularly have conversations about serving our customers and communities well. The communities that we operate in are just something that are so critical to the quality of life for our customers. Our ability to bring energy to those communities – not only the natural gas, but also the energy our employees bring with community involvement, is really important. We support our communities and want to help them thrive."
Shirley is excited to be closer to her family in Wisconsin and the Chicago area, including her grandkids Hazel and Marshall. She and her husband Duane have two sons: Kyle, an engineer in Chicago and Adam, an Army Captain who will soon move to Illinois and join law enforcement after serving his country.
Welcome home, Shirley.
Have you replaced your carbon monoxide detector batteries?
With the temperatures dipping, you and your family are probably spending more time inside. While you're putting away the garden hose and dusting off the snow shovels, now is a good time to check your carbon monoxide detectors.
Carbon monoxide is odorless and colorless, so the National Safety Council recommends you install a battery-operated or battery backup carbon monoxide detector in the hallway near each separate sleeping area in your home. You should change the batteries twice a year, and replace the detector every five years.
The Center for Disease Control offers these additional tips:
Have your furnace, water heater and any other gas or coal-burning appliances serviced by a qualified technician every year
Do not use portable flameless chemical heaters indoors
Have your chimney checked and cleaned every year, and make sure your fireplace damper is open before lighting a fire and well after the fire is extinguished
Never use a gas oven for heating your home
Never use a generator inside your home, basement or garage or less than 20 feet from any window, door or vent; fatal levels of carbon monoxide can be produced in just minutes, even if doors and windows are open
Never run a car in a garage that is attached to a house, even with the garage door open; always open the door to a detached garage to let in fresh air when you run a car inside
If your alarm does sound, immediately move outside to fresh air and call 9-1-1. With these safety checks in place, you and your family can enjoy a cozy fall with peace of mind.
---
Iowa energy connections
While our Midwest state is widely known for corn and the Hawkeyes, Iowans have a lot to be proud of, like our sense of community, whether your neighbor is right next door or acres away. We want to help you stay up to date on what's happening in your area.
Missed last month's Iowa Energy Connection newsletter? No worries, catch up here.