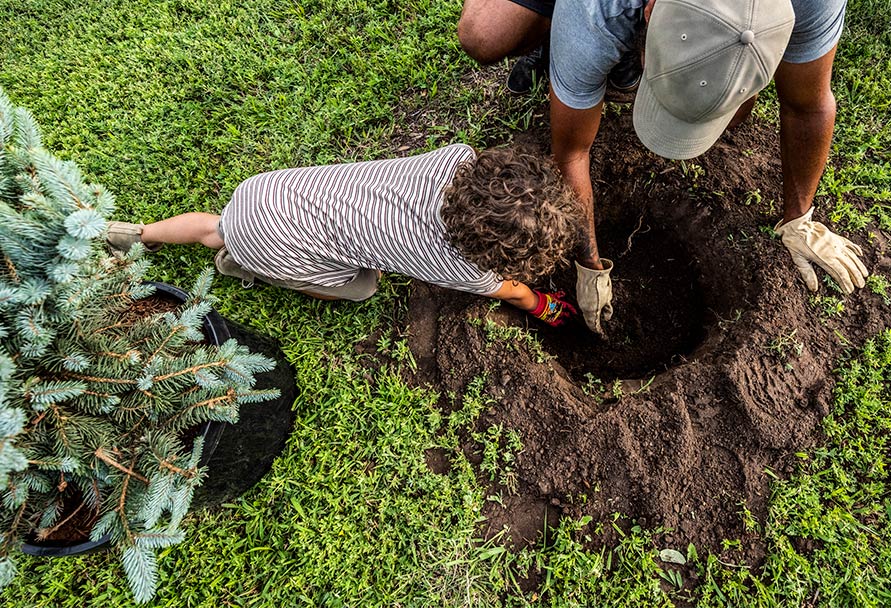 You might think little house projects like planting a tree in your back yard, leveling some ground for a new play set, installing a mailbox, or even digging up a flower garden couldn't do any harm. But these small tasks could lead to big problems if you don't call 811 before you dig. Many utilities are buried just a few inches below ground, so you could easily hit a line with even simple gardening projects.
Before you start any project that moves dirt, make sure to click or call 811 first.
Steps to safe digging at home
Call 811 before you dig. This quick call will notify all utilities in your area of your plans to dig. You can also submit an online request. Make sure to do this at least two days before you dig. On average, between 7-8 utility operators are notified for each request.
Pre-mark where you plan to dig using white paint or flags. Marking the site will let us know what area on your property we should focus on when we arrive.
Wait the required number of days to allow utilities to send out locators. Within two business days, someone from each utility will mark the approximate location of buried lines around your project with paint or flags at no cost to you. 
Confirm that all utilities have responded to your request. Use the process explained by your 811 call center representative or outlined on your 811 center ticket to confirm that each affected utility has responded. If you see clear evidence of a utility, such as an above-ground marker, manhole cover, or utility box, but no utility marks, contact your 811 center so that the utility can be notified.
Respect the marks. The marks provided by utility operators are your guide for the duration of your project.
Dig with care. Lines cannot be exactly pinpointed, and the depth can't be precisely determined. Try to avoid digging on top of or within 18-24" on all sides of the utility marks. Sometimes that might mean moving your project to another part of your yard.
Call to have the location remarked for free. Let's say, hypothetically or course, that you decide to go fishing instead of doing the yard work that weekend. We have your back. If your project gets delayed more than seven days, you can call to have the area remarked. Don't forget to call at least two full business days before work begins.
Neighbors like you can help us maintain a safe, secure, and reliable pipeline system. If you observe any unusual or suspicious activity near our pipeline facilities, please call 800-694-8989.