If you smell a gas odor, immediately evacuate from the building or area. Once you're away from the building, call 911. Or, if you see damaged lines, leave the area immediately and call 911. Then, call us at 888-890-5554 to report the problem. 
Stay up to date on post-storm information by following our Facebook or Twitter pages. We also share information with local media.
Severe weather can cause damage to areas of your home that could affect your energy and safety. Every storm is different, but our crews always work hard to safely and efficiently restore the energy you depend on.
Check for damage
Natural gas meter
Look for cracks, leaks, standing water, hail damage or any other signs of damage. If you see any damage, call us immediately.
Gently clear debris away from your meter by hand or with a broom. Do not use a shovel, ice pick or other sharp tools as damage could result and make the situation worse.
Point out the meter and any other above-ground utility structures to anyone you hire for debris or snow removal.
If damaged, we may not be able to turn on the meter or we may have to red tag appliances and leave them off.
Service mast
Severe weather can damage your home's service mast. A mast is on the outside of your roof or at your meter and looks like a metal tube or pipe. It feeds electricity to your home from the overhead power lines.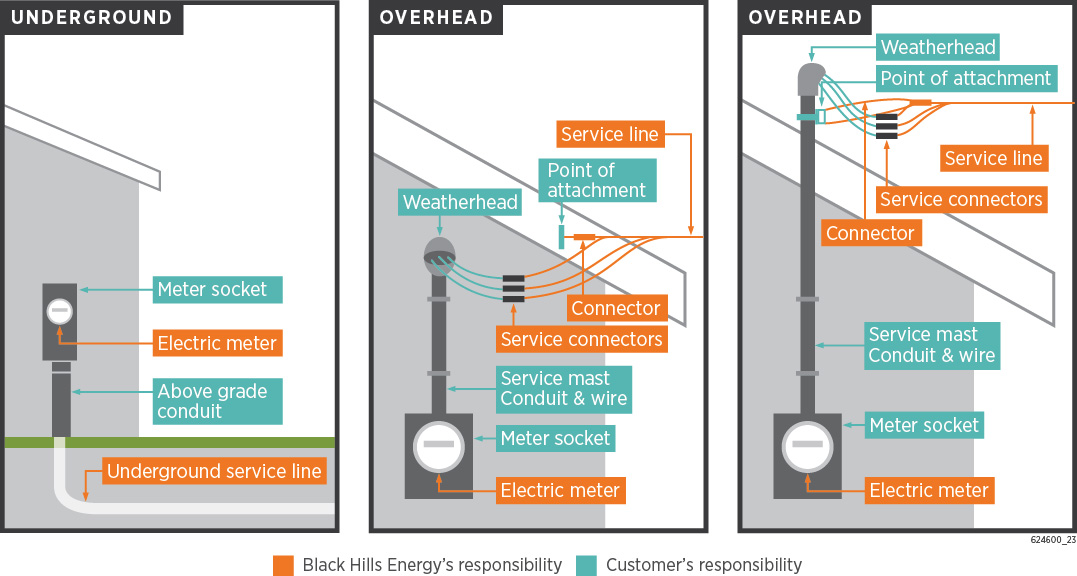 As the homeowner, you're responsible for maintaining and repairing your home's service mast. Follow these steps to repair your service mast:
Look at the mast on the outside of your home, but don't touch it because it's energized.
Contact a certified electrician to schedule a repair if the mast appears loose, bent or damaged. 
The electrician will call us to come out and turn off service to your home.    
The electrician will repair the meter can or service mast.    
The electrician will call an inspector to inspect the repair.
The inspector or electrician will call us to restore service to your home.
Appliances
Carefully clear debris away from the outdoor vent on high-efficiency furnaces. The furnace won't run safely and efficiently if the vent is blocked. 
Customers will need to work with their homeowner's insurance carrier to discuss appliance and equipment repairs that may be required.
If your electric appliances and equipment have been under water, once dried out have them checked by a qualified repair person before use.
Stay up to date
We issue ongoing service restoration updates to the media, on our outage map and on our Facebook and Twitter pages. Follow instructions and guidance from emergency management officials.  
If your email and/or mobile number is up to date, you'll receive outage notifications. 
Re-stock your emergency kit
Re-stock your emergency kit with a flashlight, batteries and a portable phone charger or battery-operated radio for weather updates and emergency notifications. We have a full list of other items to stock in your emergency kit.