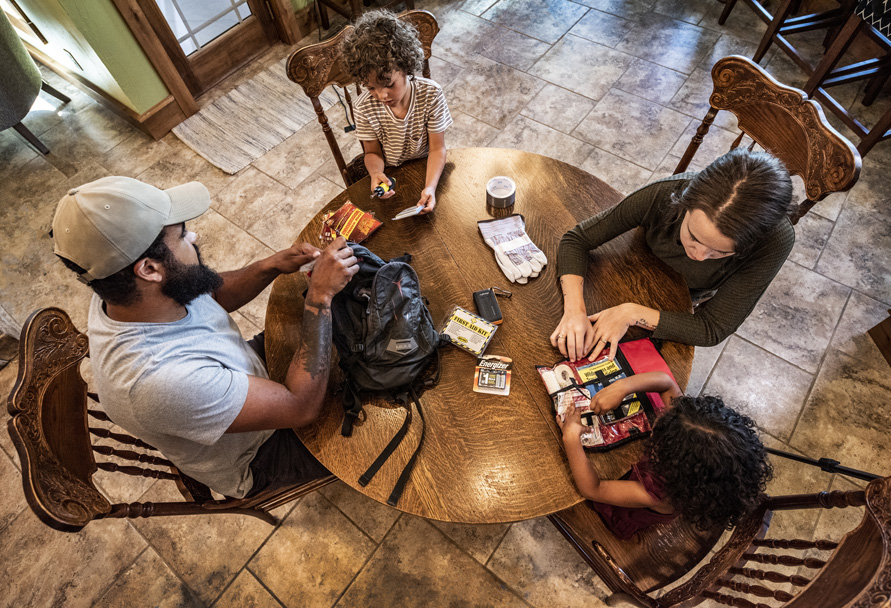 If you smell a gas odor, immediately evacuate from the building or area. Once you're away from the building, call 911. Or, if you see damaged lines, leave the area immediately and call 911. Then, call us at 888-890-5554 to report the problem. 
We work to make sure you have safe and reliable energy, but occasionally the weather or other circumstances can create issues. We're always ready to respond if an issue is caused by severe weather. Our highest priority is to provide you with safe, reliable service. Here are some things you can do to help you stay safe – especially during severe weather.
How you can prepare
Keep your energy source safe.
Know where your natural gas meter is located. This is usually located outside your home, near the foundation.
Know where your service mast is located. A mast is on the outside of your roof or at your meter and looks like a metal tube or pipe. It feeds electricity to your home from the overhead power lines. As the homeowner, you're responsible for maintaining and repairing your home's service mast.
Secure any loose items. Check outside your home or business for any items that could be blown around by the wind and damage your energy source, such as lawn furniture, garbage cans and patio umbrellas.
Prepare for debris. Trim any trees or shrubs that could fall on your service mast, gas meter or appliances.
Check your emergency kit 
When severe weather strikes, it pays to have an emergency kit ready and waiting. That way, a weather emergency is less of an emergency.
Your emergency kit doesn't have to be super complicated. Most of the items you already have around the house. So, let's get started.
Charge your phone
In an emergency, your cell phone can be a lifesaver. But a phone with a dead battery won't be much help. If a storm is rolling in, make sure your cell phone is charged. 
A portable phone charger is a great tool to add to your emergency kit. Check it periodically to make sure it's still charged and ready.
Make a plan
Emergencies come in all forms. Whether a forest fire threatens your home, your house has a natural gas leak, or a major storm has caused extensive damage, emergencies leave us feeling unprepared. 
But there's one way to feel a little more in control in these situations — have a plan. In this case, have an emergency evacuation plan. Knowing what you're going to do and how you're going to do it can offer an enormous sense of relief in an emergency. 
Let's look at what to include in a family evacuation plan so you can get started.
If any member of your family is on life support, plan for arrangements to get them to a location where their needs can be met if electric service is interrupted. Also call us at 888-890-5554 to make sure we've noted a life-support system exists at your home.
Emergency power source
If you need an emergency power source — like a generator — during or after a storm, be vigilant about safety and learn how to use it properly. 
Get notified
Set up text, email or phone alerts so you never miss important information about your account. You will receive alerts when an outage, planned or unplanned, has been detected in your neighborhood. 
Follow us on social for continued safety information and weather preparedness. We issue ongoing service restoration updates to the media, on our outage map and on our Facebook and Twitter pages.
How we prepare
Before the storm, we prepare our crews and make sure we have the necessary people to mobilize. When the situation calls for it, we have arrangements with outside contractors and other utilities to send crews to help restore service.
We monitor weather conditions and forecasts so when there are storms, we're prepared. Our highest priority is to provide safe, reliable energy service. If weather interrupts your service, we are committed to safely restoring it as soon as possible.
We can mobilize our service crews from surrounding areas that were not affected by a storm.
We have arrangements with outside contractors and other utilities to send crews if needed to help restore service.
We have working relationships with key suppliers to assure that materials will be available when needed.
We maintain relationships and communications with local emergency officials to coordinate efforts.