When your solar system produces energy, you begin using this energy right away, in real time. You may not be using all of it, and some of it goes back to the Black Hills Energy grid. This amount of energy will offset your total energy bill this month and potentially in the future depending on the production of your system. 
Important components of your solar bill
Now that you've received your bill in the mail you may be wondering what each of the data means. We're here to help you read your new solar bill. 
Watch this video to learn about the information included on your bill.
Bill overview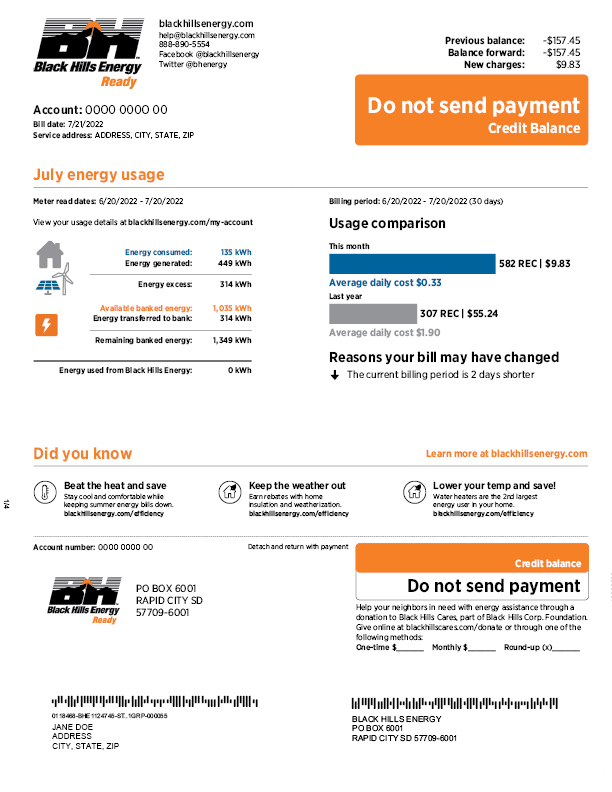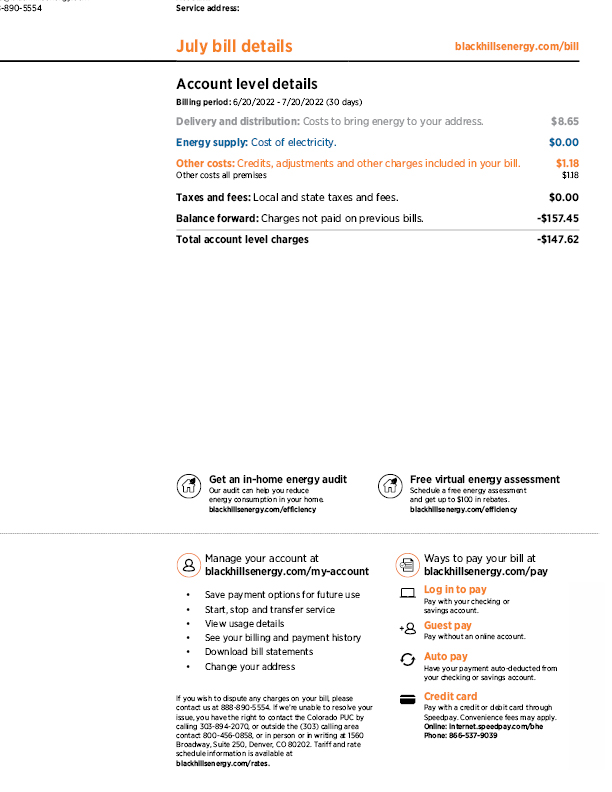 Key information

Your due date and the amount due are located at the top of the front page, along with your account number and service address.
Monthly energy usage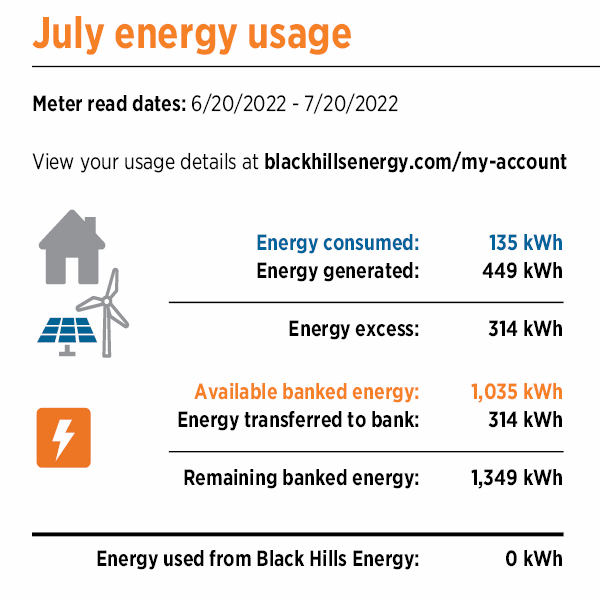 The calculation of energy used from Black Hills Energy on your bill may look different, depending on your energy consumption, generation and type of meter. It may include:
Energy Consumed: The amount of energy you needed from Black Hills Energy during the billing period. This is the energy you needed primarily during the night or when your solar system was not producing energy.
Energy Generated: The amount of excess energy your solar system produced – more than you needed during the day.
Available Banked Energy: The amount of energy from your solar system that was "banked," or carried over from the previous month. This varies greatly from month to month and can be zero.
Energy Transferred: The amount of banked energy that is applied or removed from your current bill. This amount is added to or subtracted from your "bank."
Remaining Banked Energy: The amount of banked energy that remains after energy is added or subtracted from your "bank." 

To calculate: Available Banked Energy +/- Energy Transferred = Remaining Banked Energy

Energy Used from Black Hills Energy: The amount of energy needed from Black Hills Energy to power your home. 

To calculate: Energy Consumed minus Energy Generated minus Available Banked Energy = Energy used from Black Hills Energy
Usage comparison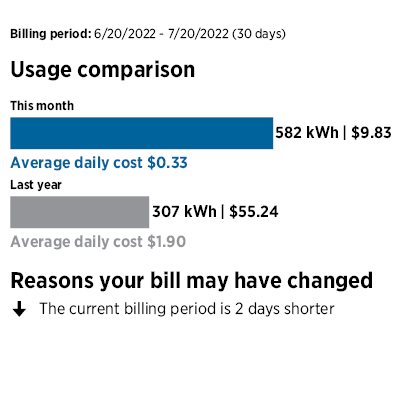 Easily compare this month's usage to the same time last year and view reasons why your bill may have changed.
Did you know
In this section you'll find useful safety information and specific tips to help you save energy and money. 

Payment stub
If paying your bill by mail, detach the bottom of the front page and include this with your check in an envelope.

Account level details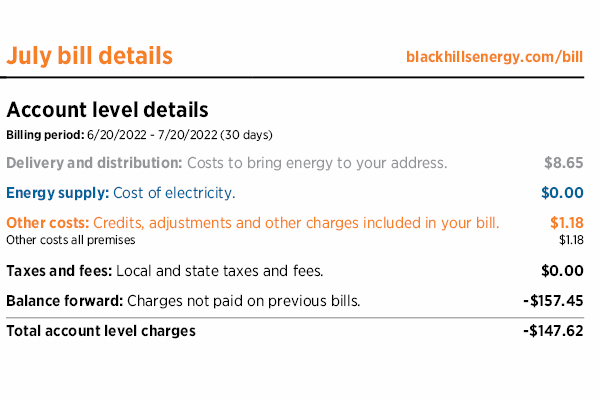 The monthly bill details are first shown for your account, which includes all meters and services.
Messages
Important information about your account is included in the messages section.
Your account
Managing your account online provides easy access to resources and tools, including:
Viewing your usage and bill history.
Starting, stopping or transferring service.
Paying your bill or changing your payment method.
Managing email and text alerts.
Enrolling in programs such as Auto Pay and paperless billing.
Ways to pay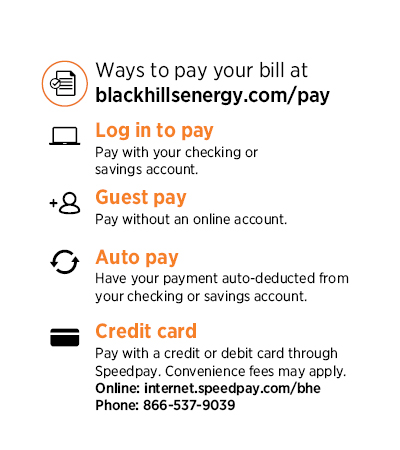 We offer several ways to pay your bill so that you can pick the one that's right for you.
Service level bill details
On additional pages, the monthly bill details are shown separately for each service and location (if applicable). Specifics about your monthly charges are color-coded by category.
Generation and usage history
Depending on your renewable energy system, the last 12 months of generation and/or usage history are displayed by service to help you see how this varies throughout the year.
Usage is shown in kilowatt hours (kWh). Generation is show in renewable energy credits (REC).
For more information
If you have questions about your bill or would like to request a production meter, contact our customer service team at 888-890-5554.