Embrace fall with Grandma's recipes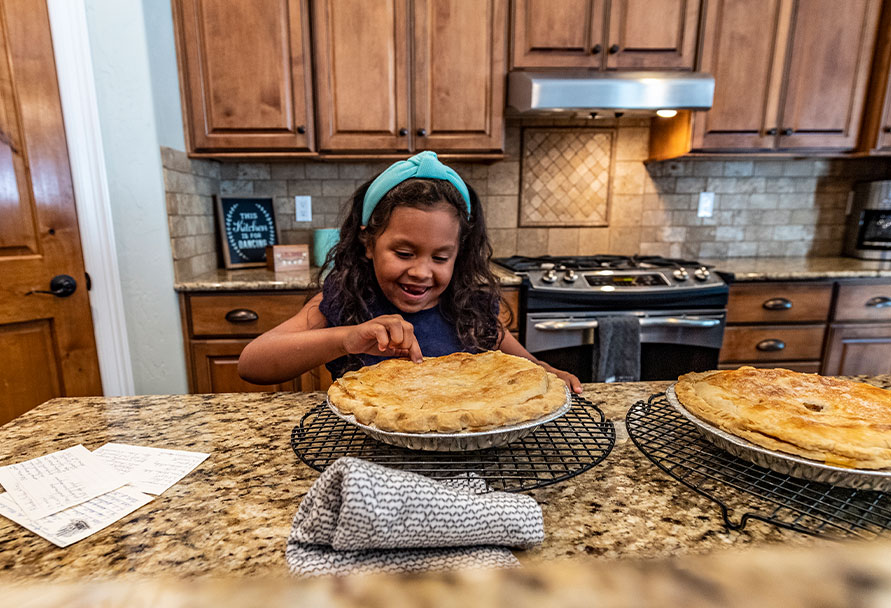 There's something special about the return of routine in the fall.
For some of us the end of summer means posting a new color-coded calendar on the fridge charting everyone's school activities, meeting new teachers and launching into a new academic year. Others are looking forward to reconnecting with coworkers after being away or cherishing the thought of someday soon seeing the loved ones we've missed while staying home.
This season is full of old comforts and new adventures.
The cycle of the changing seasons reminds us of the constants in our lives we can always depend on. No matter what each day holds, coming home is what fills us up. It's where we can rest, relax, and recharge - ready for whatever the next day holds. It's coming home to the smell of pot roast in the oven or chili on the stove, made just like Mom's. It's carrying on traditions while embracing the new.   
As we all head into a new season, here are a couple of our employees' favorite recipes handed down from their grandmas, sure to help you and your family get back into the rhythm and be prepared for whatever the season holds.
Great Nana Velma's oatmeal pancakes
From the kitchen of Alicia, Rapid City, SD
About the recipe
This recipe has been handed down in our family beginning with my Great Nana, Velma, and has stood the test of time. It isn't a typical pancake recipe - they're not intended to be light and fluffy - but the oatmeal texture and flavors are to die for. My picky toddler devoured 3 of these over the weekend and was still wanting more.
What you need
1 1/2 cup quick oatmeal
1/2 cup flour
1 Tbsp sugar
1 tsp salt
1 tsp soda
1 egg
3 Tbsp corn oil
1 tsp vanilla
1/2 tsp maple flavoring
2 cups buttermilk
Mix the first 5 ingredients. Add the remaining ingredients and mix together. Make sure the griddle is hot. To make as waffles, add 1 extra egg. Tip from Mom: "Separate yolk from egg white. Mix yolk with buttermilk, oil & flavorings -- the very last thing is to beat egg whites and fold them in."

Grandma Shirley's banana nut bars
From the kitchen of Andrea, Rapid City, SD
About the recipe
This recipe was in a pile of others that are handwritten and covered in stains and love from pulling them out and using them over and over again. It is special because of the memories with my Grandma Shirley, and because I have not seen very many other versions like it. I love banana bread, but this makes a larger batch and is more of the consistency of cake. I hope you enjoy and can pass on to your favorite people. P.S. I omit the nuts and it is just as good.
What you need
2/3 cup shortening (or 1/3 cup shortening & 1/3 cup oleo)
2 egg yolks
2 egg whites (beaten until stiff)
3/4 cup very ripe bananas (browner the better)
1 1/2 cups flour
1 1/2 cups of sugar
1 tsp baking soda
1/4 tsp salt
4 Tbs sour cream
1/2 tsp vanilla
1/2 cup chopped nuts (optional)
 
Pre-heat oven to 325 degrees. Cream together shortening and sugar. Add egg yolks and mashed bananas. Sift together flour, baking soda, and salt. Add alternately with sour cream & vanilla, then add the nuts. Fold in stiffly beaten eggs whites last. Pour into a 9 X 13 pan. Bake for 45 mins. Cut into squares and sprinkle powdered sugar on top as desired.  Enjoy!
We're here to help
 
Remember, we're here to help. Our Service Guard team will make sure the appliances you depend on most are protected. Check out our Service Guard program to learn more about how we can help bring comfort to your home.
Make sure to follow us on Facebook, Instagram, LinkedIn and Twitter for the latest tips!
 

Share the love with those you love

During this time of thanksgiving, you can share the peace-of-mind of Service Guard with your friends and family through our share and save referral program. You'll get $50 in credit toward your existing Service Guard repair plan account, and the person you refer will get a month of Service Guard free.