How to read your meter
Not sure how to read your digital or analog meter? No worries, we'll show you how to read them, the different types and how to submit a meter reading.
Digital meter
If you have a digital meter, write the meter numbers in the boxes above "Mark if a digital meter" on the back of your monthly meter read letter. Report your findings through the toll-free Customer Service number or click the button below submit your reading online.
Analog Meter
Analog meters have a set of dials. Most gas meters have four dials, most electric meters have five:
How to read your analog meter
In the spaces provided on the back of your meter read letter, mark the exact position of the hand in each dial.

In the spaces below the dials, write the numbers for the corresponding dials. If the dial hand is between two numbers, write down the lower number. There is one exception however; if a dial hand is between 9 and 0, write down 9. If the hand is barely touching the bottom of a number or has not passed the midpoint of that number, use the lower number:
Examples
The reading about is 70: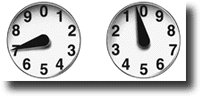 The reading below is 69: