At Black Hills Energy, our mission of improving life with energy means we must be ready to make tomorrow even better than today.
That is why we are committed to creating a cleaner energy future that builds upon our responsibility to provide the safe, reliable and cost-effective energy that improves our customers' lives. By investing in the success of our employees, continually innovating, thoughtfully utilizing resources and keeping people at the core of our decision-making, we are dedicated to the sustainability of our company, communities and planet.
 
Emission Reduction Targets

We are excited to announce significant advancements in our decarbonization journey. We have continued to achieve progress toward our goal to reduce electric utility emission intensity 40% by 2030 and 70% by 2040, as well as our natural gas utility goal to be net zero for our distribution system by 2035.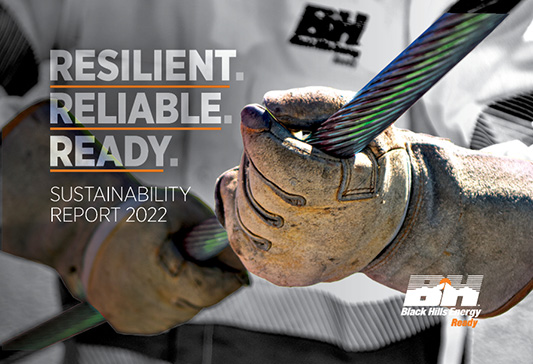 2022 Corporate Sustainability Report

This report provides a thorough look at how all of us at Black Hills Energy are constantly pursuing our mission of improving life with energy, and we are ready to make tomorrow even better than today.

View the 2022 Sustainability report
View our past Sustainability reports, our response to the Edison Electric Institute (EEI) and American Gas Association (AGA), our response to the Sustainability Accounting Standards Boards (SASB), NGSI Disclosure, and Task Force on Climate-related Financial Disclosures (TCFD).
Sustainability Report Highlights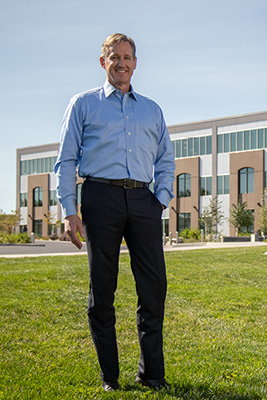 Resilient. Reliable. Ready.

"Now more than ever, our ability to remain resilient, reliable and ready drives us to meet the needs of our customers today and in the future. These three words are emblematic of the unwavering commitment our 3,000 Black Hills Energy team members have to provide the safe, reliable, and cost-effective electricity and natural gas our customers depend on, and to do so in a sustainable way."
Linden "Linn" R. Evans
President and CEO
Sustainability at Black Hills Energy
"Just three years out from setting our electric utility emission intensity goals to reach a 40% reduction by 2030 and 70% by 2040, and one year past announcing our natural gas distribution system target of net zero by 2035, we know we're still in the early stages of our journey. We'll have many decisions to make and work to accomplish in the future, but we're proud of the steps we take every day and the progress we've made over the last year to advance our sustainability strategy."
Katie Fleming
Chief Sustainability Officer 
Director of Strategic Planning & Communications