Reliability Upgrade for Southern Colorado
 


To maintain reliable delivery of power and meet current and future demand from customers, the Reliability Upgrade for Southern Colorado will ensure reliable power — now and in the future — by upgrading our infrastructure via a transmission line stretching from Pueblo West to Cañon City and three new substations in Pueblo West, Penrose and Cañon City.
The Reliability Upgrade will enable us to connect a 200-megawatt solar facility in Pueblo County to our system, delivering a 71% reduction in CO2 emissions.
The transmission line will also enhance the integrity of the existing power grid to continue providing safe, reliable energy and empower economic development and prosperity for every community it passes through by significantly reducing the chance of service loss, improving overall reliability of the system and providing additional capacity for future growth.
Upgrade Description
 
A growing power and reliability demand
We consistently evaluate our system for factors that could impact the reliability or safety of the electric service we deliver. Age and capacity are two core factors. Continued growth and the need for additional infrastructure to serve communities like Pueblo West, Penrose and Cañon City, is driving a proposed project to ensure delivery of the reliable electric service that our region needs to thrive. In the last few years, Pueblo West alone set an all-time historical system peak load and experienced a 48 percent load growth, meaning we're close to having more demand than ability to deliver electricity. In Penrose and Cañon City, if service on our one transmission line is interrupted, customers in those communities could experience a total loss of power.
Reliability is key
We know from Southern Colorado customer surveys that Black Hills Energy customers care deeply about reliability. Our ultimate goal is to provide the most dependable energy as efficiently possible and we make all business decisions with cost-efficiencies in mind. The Reliability Upgrade delivers on our mission to ensure the reliable, safe and clean energy that our Southern Colorado communities need to thrive and grow.
Reliability
 
Increasing reliability for Southern Colorado
This upgrade will enhance and maintain reliable energy by providing additional energy for over 34,000 homes, businesses, hospitals and other facilities in Pueblo and Fremont Counties currently served by Black Hills. It will reduce the risk of overload, safeguard against total power losses now and create opportunities for upgrading current distribution lines in the future, without interrupting power to homes and businesses.
Plus, reliable electric service is an important driver of growth and community prosperity for Southern Colorado. Black Hills is proud to provide the reliable energy that will be vital in powering and growing new businesses in the region and support and sustain efforts like the Cañon City downtown revitalization.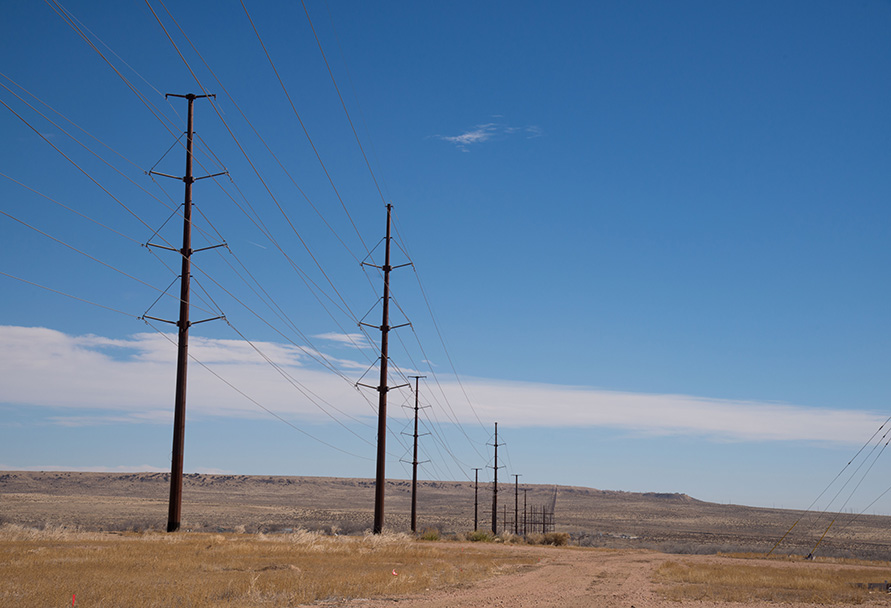 Transmission Line

The transmission line will start at the existing West Substation and travel northwest through the Pueblo West Metro District designated utility corridor until it meets the existing natural gas pipeline easement. The transmission line then follows the pipeline easement until it meets, and parallels the existing Western Area Power Administration (WAPA) 230-kilovolt line in Fremont County, finally reaching its end in Cañon City. By following these easements and utility corridors, we're able to minimize our impacts in several ways:
First, we will replace existing poles to accommodate the new circuit in all of Pueblo West except for two small sections in the Wildhorse Creek utility corridor where new poles will be needed. This means that 60 of the 80 poles needed in Pueblo West for the transmission line would replace an existing pole that's in place today; this reduces the number of properties in Pueblo West that otherwise would experience some view obstruction.
Second, by using the Wildhorse Creek easement we're not creating any new areas of land disturbance.
The Reliability Upgrade for Southern Colorado will deliver power from our existing West Substation in Pueblo, two new substations located at the intersection of 115th and K Streets in Penrose and west of the Hogback in Cañon City, and a proposed substation in the industrial park of Pueblo West. We are currently working with the Pueblo West Metropolitan Board District Staff and Board of Directors to find a suitable location for the Pueblo West substation. 
Routing

Selecting a route is a complex process and we balanced local, physical and technological constraints with the goal of delivering improved reliability and capacity to the communities. Throughout this process, Black Hills Energy has explored a variety of potential routes and approaches suggested by customers, including undergrounding the line.
We found that undergrounding the line could add up to almost $18 million to the cost of the project, reducing the projected customer cost savings from the Renewable Advantage solar facility, so this option was not pursued. Other routes we looked at either impacted more landowners, disturbed more land or were more expensive, which is why we presented this route, with the adjustments to accommodate customer input, to the Pueblo County and Fremont County Commissioners.
The route through Pueblo West is not the same as we previously proposed to the Pueblo County Commissioners in 2018. We applied feedback and negotiated alternatives where possible, including rerouting the transmission line through the designated utility corridor in Wildhorse Creek. We made similar adjustments in Fremont County to accommodate customer feedback, including working with Fort Carson to construct the line north of Penrose, removing the easement from customers' backyards. We continue to work with a few customers in Penrose to find a route that we can all agree on.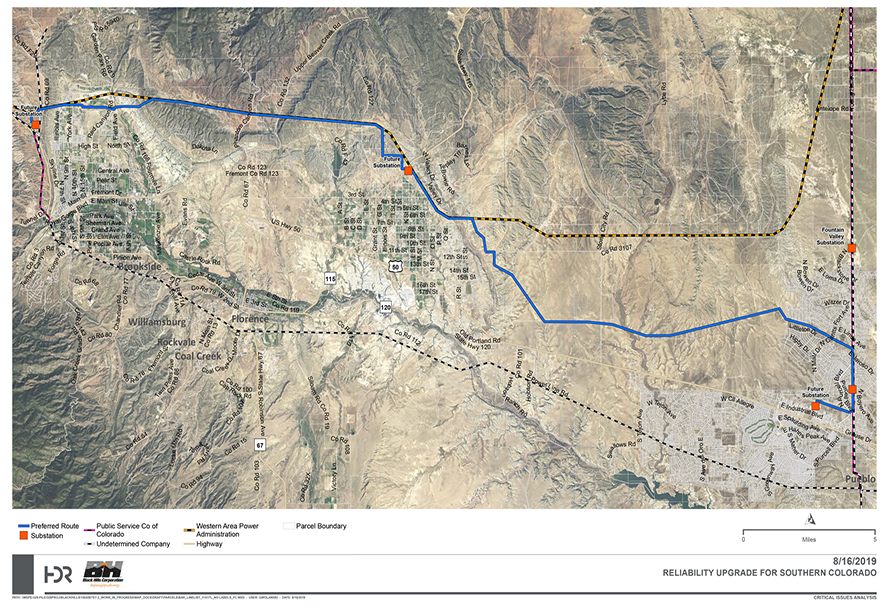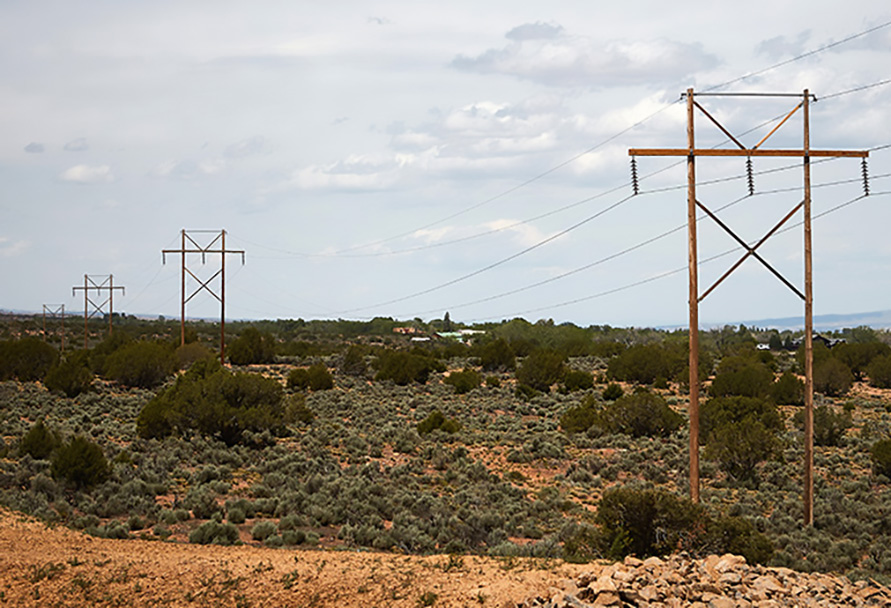 Safety
 
Safety is our first priority
Our number one priority is always public safety, employee safety and contractor safety. We regularly patrol the line to maintain the easement and reduce risks of fire or other accidents. Plus, we proactively prepare our linemen by training them on fire safety and on our Black Hills Major Event and Incident Response plan, to ensure we can respond quickly and efficiently.
Black Hills will operate the transmission line in accordance with all local, state and federal requirements.
Partnering with the Community

Throughout the planning process, we engaged with communities and customers to gather feedback and find win-win solutions. In May 2019 we held three informal Coffee Shop Talks, one each in Pueblo West, Penrose and Cañon City, where we partnered with locally-owned shops to buy coffee and chat with customers to hear their feedback and answer questions about the project and our electric utility service in Southern Colorado. 
Additionally, we hosted three formal Open Houses for Pueblo West, Penrose and Cañon City customers to learn more about the project, ask questions and share feedback on our proposed plans. We had about 125 customers join us at the meetings, which were held in June 2019 (in Pueblo West and Florence) and August 2019 (in Penrose). 
Feedback from these meetings was factored into plans for the project, including the route, while still meeting the goals of providing increased reliability, adding capacity to support economic development and keeping the project cost low. Where possible, we offered alternatives. In Pueblo West, we offered to underground existing distribution lines in the Wildhorse Creek area to minimize visual impacts. In Penrose, we adjusted the line to run north of town, removing the easement from 12 customers' backyards and placing more distance between the proposed route and customer homes. We are committed to working with landowners in Penrose to find a route that is acceptable to both the landowners and Black Hills Energy. 
Permitting

In September 2019, we resubmitted our 1041 permit application to the Pueblo County Commissioners for the portion of the transmission line in Pueblo County and the Pueblo West Substation, securing staff approval in November 2019. We worked collaboratively with Commissioners to provide additional information for six hearings, spanning from November 2019 through August 2020. At our hearing in August 2020, we secured conditional approval of the 1041 permit for construction of the transmission line in Pueblo County. In December 2020 Pueblo County Commissioners removed two costly conditions from our permit, allowing us to move forward with the project while keeping costs as low as possible to benefit all Black Hills Energy customers.
We began the Fremont County permitting process in October 2020, presenting to County Commissioners our permit applications for the Hogback Substation in Cañon City, North Penrose Substation in Penrose and the portion of the transmission line connecting the two. County Commissioners approved the Special Use by Review permits for the Hogback Substation and North Penrose Substation during their October meetings. We continue to engage with Penrose residents on routing for the remaining unpermitted portion of the transmission line, running between Penrose and the Pueblo county line.
Upgrade Schedule


Additional Resources
Learn more about our proposed transmission upgrade and how it'll benefit you and your community.