Environmental stewardship
We're committed to creating a cleaner energy future that builds upon our responsibility to provide the safe, reliable and cost-effective energy that improves our customers' lives.
We're excited to announce significant advancements in our decarbonization journey. We have continued to achieve progress toward our goal to reduce electric utility emission intensity 40% by 2030 and 70% by 2040, as well as our natural gas utility goal to be net zero for our distribution system by 2035. 
Natural Gas Net Zero Target  |  Electric Targets  |  Cleaner energy future  |  Vehicle emission reduction
Natural gas net zero target
 


Last year we announced our expanded target for our natural gas distribution system to achieve net zero emissions by 2035, and we are excited to provide updates on our key strategies to achieve this goal. Our net zero target leverages the company's focus on safety and system integrity, while advancing current strategies to include expanded damage prevention and advanced leak detection.
Electric targets

We have continued to achieve progress towards our goal to reduce electric utility emission intensity 40% by 2030 and 70% by 2040, already reducing emissions by one third since 2005. We'll continue our strategy of investing in operational improvements, renewable energy, and new technologies to further reduce our environmental impact, for a responsible energy transition. Our owned and purchased power capacity from renewable energy and storage will double by 2030, accounting for nearly half of our capacity resources.
 

Pathway to a cleaner energy future
We are transitioning to a cleaner energy future through the addition of low or zero carbon generation sources, and fossil fuel retirements or conversions. Our preferred resource plans in South Dakota, Wyoming, and Colorado plan to add over 520 MW of renewable energy and battery storage by 2030, in addition to the already planned 80 MW Fall River solar project in 2023. We will be positioned to achieve our GHG reduction goals, without reliance on future technologies, through the conversion of our Neil Simpson II coal plant to include natural gas as a dual fuel unit, conversion or retirement of our remaining coal and diesel power plants and added renewable energy resources and storage.

Black Hills Energy owned renewable portfolio
A key strategy to achieving our GHG reduction goals is to own and operate renewable energy. Over the past decade we have expanded our ownership from no renewable energy to 289 MW of owned and operated wind generation capacity across our service territory.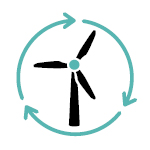 29 MW: Busch Ranch I
Busch Ranch I provided an opportunity to develop a sixth renewable energy zone in Colorado as part of SB-100. This renewable energy zone enabled further opportunities to develop Bush Ranch II and Peak View, wind projects. This project supports Colorado's goals to reduce greenhouse gas emissions associated with retail electric sales 80% by 2030 as compared to 2005.

59.4 MW: Busch Ranch II
Completed in 2019, this wind facility powers 28,000 homes and is a milestone in achieving 30 percent renewable energy for our Colorado customers.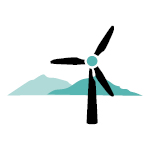 60.8 MW: Peak View
Located in southern Colorado, Peak View serves more than 94,000 customers. This facility was named after the view of the Spanish Peaks.
 
52.5 MW: Corriedale
Our newest renewable facility located on King Ranch near Cheyenne, WY is owned by our South Dakota and Wyoming electric utilities, and has the highest energy produced per MW of capacity to date for our wind facilities. This facility is named after the "Corriedale" sheep, a tribute to King Ranch's role in the development of the Wyoming sheep industry. Corriedale was strategically located in southeast Wyoming to capitalize on one of the highest wind energy density concentrations in the country.
 
87.1 MW: Northern Iowa Windpower
Our largest wind facility, comprised of 88 turbines, is located in Worth County, Iowa.
**The sale of Northern Iowa Windpower was finalized on March 10, 2023, and will be reflected in 2023 annual reporting
Research and Technology
In addition to renewable energy, we are continually evaluating new opportunities to lower emissions, such as battery storage, hydrogen fuel usage with combustion turbines and fuel cell technology.
We recently completed a hydrogen blending feasibility study, funded by the Wyoming Energy Authority (WEA), for our Cheyenne Prairie combined cycle natural gas fired power generation facility (132 MW). The project team, consisting of General Electric (GE), Black & Veatch, and Tallgrass Energy, LP, developed an engineering feasibility study and cost estimate for power generation hydrogen blending up to 35%. 

Hydrogen generation from Wyoming coal
Black Hills Energy engineers are partnering with Babcock & Wilcox Enterprises (B&W) clean power production experts and Ohio State University (OSU) Chemical and Biomolecular Engineering Department members to conduct a feasibility analysis on hydrogen generation.
We were recently awarded a grant from the Wyoming Energy Authority to conduct a feasibility analysis on hydrogen generation using coal from our Wyodak Mine, a vested resource for Black Hills Energy.  
This game-changing solution for clean energy production with near-zero carbon emissions will help us deliver efficient energy to our customers.
 

Renewable natural gas
Renewable natural gas (RNG) is a natural gas alternative derived from renewable sources. As organic waste breaks down, it emits methane, or biogas, which can be captured, cleaned and used in place of traditional natural gas, preventing the gas from otherwise being emitted into the atmosphere. RNG is produced from a variety of sources, including municipal solid waste landfills, digesters at wastewater treatment plants, livestock farms, food production facilities and organic waste management operations. 
In 2022, we established a new business unit, Black Hills Energy Renewable Resources, LLC (BHERR). This new business unit helps drive company growth by investing capital into infrastructure that provide a pathway for RNG to get to the market. 
For more information on our RNG projects, visit blackhillsenergy.com/RNG. 
 

Voluntary RNG and Carbon Offset Program 
In 2022, we filed regulatory applications to offer a voluntary renewable natural gas and carbon offset program, called Green Forward, to eligible Colorado, Kansas and Nebraska residential and business customers. The program allows participants to offset up to 100% or more of the emissions associated with their own natural gas usage. The program is designed as a comprehensive four-year pilot program starting in 2023 and running through 2026. We have also submitted the voluntary RNG and carbon offset program to state regulators in Iowa, Arkansas and Wyoming and seek to offer the program in gas jurisdictions by 2024. 
Learn more at blackhillsenergy.com/greenforward.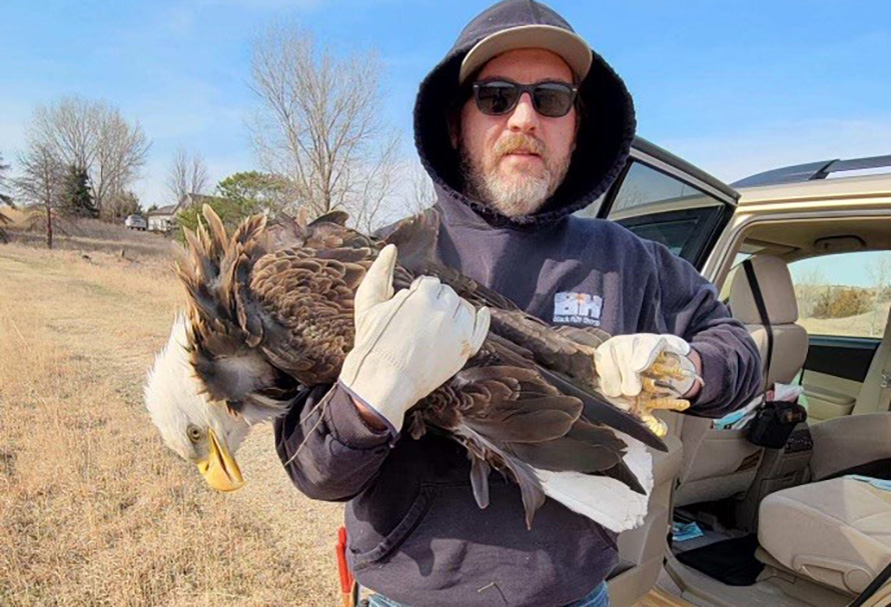 Avian protection

We dedicate resources to the protection of migratory, threatened and endangered birds. For over 15 years, we have deployed an avian protection plan and conduct ongoing annual training for employees. All new power lines are built to raptor-safe standards per Avian Power Line Interaction Committee guidance and proactive retrofits are part of our ongoing maintenance programs.
Emissions reduction: vehicles

Fleet vehicles
Black Hills Energy's goal is to electrify 20% of its on-road fleet by 2030. This plan will convert over 400 on-road vehicles to electric, plug-in hybrid electric, or plug-in idle mitigation technology, including approximately 40% of cars and SUVs and 45% of heavy-duty trucks by 2030. In 2022, 115 of our fleet vehicles and pieces of equipment utilized alternate fuels, such as electricity and compressed natural gas. During this timeframe we added six all-electric vehicles to our fleet.

Ready EV
Our Ready EV rebate program, launched in late 2019 in Colorado, South Dakota and Wyoming, is making electric vehicle charging more convenient and more affordable for our customers. With more than 70 different types of battery and plug-in hybrid electric vehicles available in the U.S. today, we believe customer demand will keep growing as technology continues to improve and more charging options become available.
Residential customers can receive a rebate up to $500 on a Level 2 charger and installation, covering most of the cost of the charger. Business customers can receive up to $2,000 per Level 2 charging port, while government and nonprofit organizations can receive up to $3,000 per port. There are also rebates for Level 3 chargers, also known as DC Fast Chargers, ranging from $20,000 per unit to $35,000 per unit.


Learn more about ready ev
Renewable energy
Energy efficiency and conservation