Air quality
We developed an industry-leading "auto trip logic" program to reduce short-term air quality emission exceedances at our power plants. The emissions control logic, coupled with improved maintenance, has virtually eliminated exceedances without jeopardizing operating availability. The software is programmed to shut down the operating electric generating units should air emissions approach the units' permitted emission limits, thus preventing the exceedance from occurring. This pioneering technology significantly reduces our compliance risk, and we are currently the only company in the country employing such a technology approach. 
Water conservation
Black Hills Energy was the first energy company to use air-cooled condensers in the United States. By using an air conditioner to cool the generation boilers rather than pumping water from a river or lake, we save millions of gallons of water usage daily, a critical benefit in the arid West. This technology also eliminates contaminated water from being discharged into the environment. Air-cooled condensers are utilized on all our power plants at the Neil Simpson Energy Complex in Gillette, Wyo.
Avian protection
We are an industry leader in the protection of migratory, threatened or endangered birds, raptors and waterfowl. For over 15 years, we have deployed an avian protection plan and conduct ongoing training for employees. All new power lines are built to raptor-safe standards and proactive retrofits are part of our ongoing maintenance programs. We build manmade nests to replace nests established on our powerline poles and work with local non-profits to provide raptor rehabilitation services.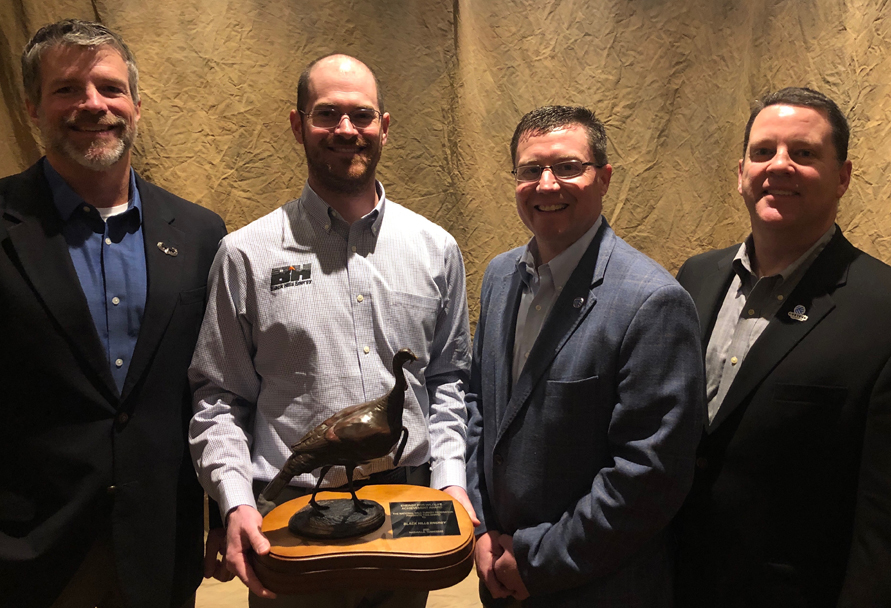 Vegetation management
In 2019, Black Hills Energy enrolled 1,000 acres of electric transmission right of way in the National Wild Turkey Federation's (NWTF) Energy for Wildlife Habitat Endorsement Program. Our vegetation management specialists worked with the NWTF to create a beneficial program, encouraging habitat enhancement on energy corridors including areas within the Black Hills National Forest. We've made significant progress adopting a progressive Integrated Vegetation Management system to both decrease maintenance costs and greatly increase wildlife habitat value. 
Tree planting
In 2019, we invested almost $85,000 in planting nearly 1,500 trees which will grow to save energy by blocking the hot summer sun and cold winter winds, as well as filter nearly 7 million gallons of storm water and avoid or sequester over 2.5 million pounds of carbon dioxide. Since beginning our program in 1992, the Arbor Day Foundation and Trees Forever estimate the Black Hills Energy program has avoided over 28 million pounds of carbon, filtered 80 million gallons of stormwater and saved 7 million kWh.