Your how-to-guide to staying safe through the holiday season
The holiday season is upon us. It's time to bring out the fine china, hang up the Christmas lights and get cozy around the hearth.
But before you take part in all of the merriment, here are some simple safety tips to help make sure you enjoy the entire season.
How to safely bring out the fine china
Whether your fine china spends most of the year in the attic or the basement, odds are it's in a box. Take these steps to safely transport that heavy box to your dining room before your family's feast.
Examine the box. Look for potential unbalanced or weak spots in the box. Find comfortable spots where you can easily pick up the box.
Choose a safe route. Decide where you're going to take the box. Clear any obstacles that stand in the way of your final destination.
Lift the box. Make sure the load isn't too heavy for you to carry by yourself. Stand next to the box with your knees shoulder-width apart. Keep your back straight, engage your abdominals and bend your knees to squat. Get a good hold on the box and lift it straight up using your leg muscles.
Carry the box. Walk smoothly and slowly with the box close to your body. Turn with your feet and do not twist your upper body.
Put down the box. Once you've reached your final destination, return to the squatting position you used when picking up the box. Keep your back straight and the box close to your body. Gently set the box down on the ground or another solid surface.
How to safely hang holiday lights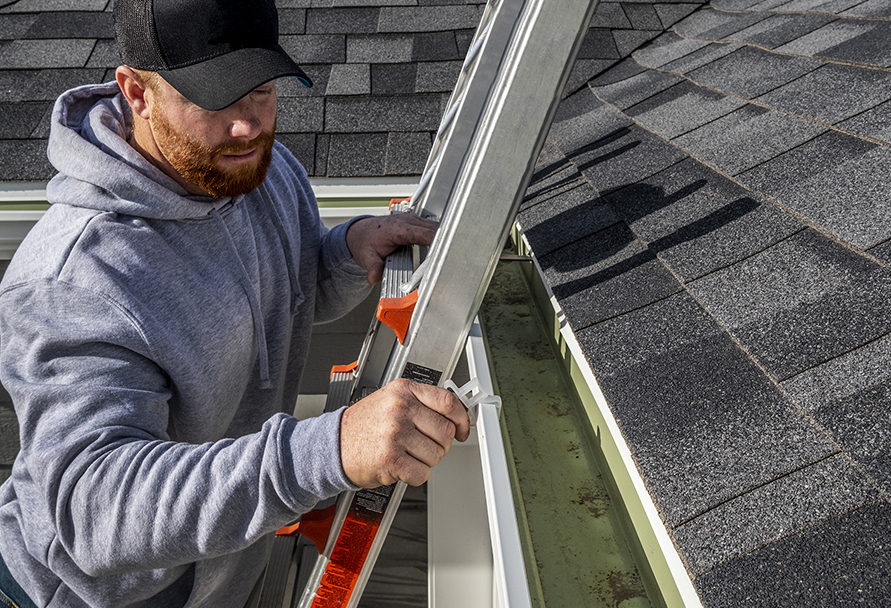 When it comes to stringing lights on our homes for the holidays, it's almost inevitable that you'll find yourself on a ladder. Follow these steps to safely use your ladder while you hang up holiday lights.
Set up the ladder. Make sure the feet of the ladder are secure. Place the feet parallel to the wall and on firm, level ground.
Secure the top of the ladder. If the ladder is leaning against a wall, the top of the ladder should be firmly supported. Place both side rails on an even surface. Make sure the ladder does not wobble or slide when you put weight against it.
Maintain three points of contact. When you're climbing up or down, and when working on the ladder, always maintain three points of contact with your hands and feet.
Ask for help. Hanging holiday lights should never be a one-person job. Have a helper available to hold the strings of lights. They can also keep an eye on your ladder, or hold it at the bottom, to make sure it remains safely positioned.
How to safely clear off the driveway
Before you make room for company by clearing off the driveway, make sure you're doing it right. Follow these steps to safely shovel snow off your driveway.
Warm up your muscles. Shoveling snow is a serious work-out. Before jumping into the task, take some time to stretch and move your muscles.
Use the right equipment. Make sure your shovel is the proper length for your height. The handle should be chin-height and your hands should comfortably rest on the handle 18-24 inches apart.
Shovel snow the safe way. Scoop small amounts of snow to limit the load on your back. When lifting loads, bend your knees and keep the load close to your body. Use your feet to pivot and keep shoulders in alignment over your hips to minimize trunk twisting.
Pace yourself. Take regular rest breaks and drink plenty of water.
How to safely travel to your family's house
Safe travels look a little different this year. Before you travel this holiday season, make sure to check the latest CDC guidelines and check if COVID-19 is spreading at your destination.
If you do hit the road, make sure to keep these safety tips in mind.
Pay attention to the weather. Keep an eye on the forecast before you head out. While the weather may be fine when you leave, deteriorating conditions can cause problems. Plan your travel accordingly.
Wear your seat belt. Strapping yourself in to your seat while driving is a no-brainer, but it's even more important when the roads are slick.
Adjust your driving. Be sure to adjust your driving according to weather conditions. As roads worsen, decrease your speed and increase your stopping distance.
Go easy on your brakes. When you find yourself on slick roads, be mindful to not slam on your brakes. Slamming on your brakes can cause your vehicle to slide.
React to a slide. If your vehicle does start to fishtail or slide, start by reducing your speed. If you're caught off guard by the slide, turn your wheel in the direction that the rear of your car is sliding.
How to stay safe all year long
At Black Hills Energy, we care about your safety all year long.
We're committed to being the safest energy company in the country. That's why we share all sorts of safety tips on our website. From basic gas and electric safety tips to important information to keep you safe during storms, we offer a range of information at www.blackhillsenergy.com/safety.
Looking for more safety tips?
Follow us on Facebook and Twitter for more helpful safety tips.